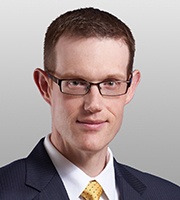 William Woolston is a partner in the firm's Washington office. His practice focuses on all aspects of employee benefits and executive compensation for companies in a variety of industries, including manufacturing, specialty chemicals, advertising and public relations, telecommunications, software design, and consulting.
Mr. Woolston's employee benefits practice has focused significantly on qualified retirement plans, with a particular emphasis on "hybrid" defined benefit plans like cash balance and pension equity plans. In addition to advising plan sponsors on compliance and plan design issues, Mr. Woolston has successfully represented clients on various matters before the Internal Revenue Service and the Department of the Treasury. He has assisted numerous companies in resolving with the IRS operational and administrative errors in various types of qualified retirement plans, including 401(k) plans, traditional pension plans, and hybrid plans.
As a major part of his practice, Mr. Woolston conducts administrative audits and operational reviews of qualified retirement plans, and advises plan sponsors on best administrative and fiduciary practices. His plan audit and compliance review work has included the review of fees and expenses in defined contribution plans, as well as the distribution of fiduciary duty and liability amongst corporate executives and plan stakeholders. As an extension of his work in the allocation of fiduciary responsibility, Mr. Woolston has provided advice to plan sponsors who are defending lawsuits alleging the violation of fiduciary duties under ERISA.
Mr. Woolston provides executive compensation advice to numerous companies in a wide range of size and market capitalization; from small technology start-ups in Silicon Valley to major multinational corporations and professional sports leagues. Mr. Woolston advises clients on compliance with the executive compensation requirements of Section 409A of the Internal Revenue Code, as well as all forms of equity-based compensation. He also has experience structuring, drafting, and amending employment agreements, severance arrangements, and retention agreements.
Mr. Woolston also represents the employee benefits and executive compensation interests of both buyers and sellers in corporate transactions. Mr. Woolston has advised clients on employee benefits matters in transactions with purchase prices ranging from ten million to several billion dollars.
In addition to his legal experience, Mr. Woolston has a welfare benefit plan design background from working in the insurance industry and extensive in-house accounting experience from other prior positions.