Our Website Uses Cookies
We and the third parties that provide content, functionality, or business services on our website may use cookies to collect information about your browsing activities in order to provide you with more relevant content and promotional materials, on and off the website, and help us understand your interests and improve the website.
For more information, please contact us or consult our Privacy Notice.
Your binder contains too many pages, the maximum is 40.
We are unable to add this page to your binder, please try again later.
This page has been added to your binder.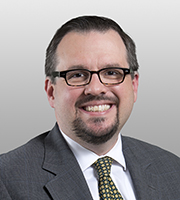 Jason Workmaster focuses his practice on government contracts-related litigation, including civil False Claims Act (FCA) cases, contract disputes, and bid protests. He has represented a host of clients in these types of cases in U.S. District Court, the U.S. Court of Federal Claims (COFC), and the Government Accountability Office (GAO).
A nationally recognized leader on FCA issues, Mr. Workmaster has appeared on NBC's The TODAY Show and Canadian TV's National News to discuss the highly publicized FCA case against the cyclist Lance Armstrong. Mr. Workmaster is also recognized as an expert on the General Services Administration (GSA) Schedules program. He regularly lectures on the schedules and appears on Federal News Radio to discuss issues related to the Schedules.
Defending contractors in U.S. District Court in FCA cases involving issues relating to the GSA Schedules program and to wartime contracting in Iraq.
Representing contractors before the COFC, the Armed Services Board of Contract Appeals (ASBCA) and the Federal Aviation Administration's Office of Dispute Resolution for Acquisition (ODRA) in complex contract disputes involving terminations for convenience, requests for equitable adjustment, wartime contracting, and cost allowability.
Representing contractors in COFC, GAO, and state and local bid protests challenging agency award decisions, including agency consideration of organizational conflicts of interest (OCIs).
Representing contractors in stay override cases before the COFC.
Representing contractors in size protests before the Small Business Administration (SBA).
Representing contractors in U.S. District Court and before the London Court of International Arbitration (LCIA) in commercial disputes relating to work for the Government.
Conducting internal investigations regarding potential fraud allegations and contract compliance.
Assisting contractors regarding the government's mandatory disclosure program.
Assisting contractors with responding to Defense Contract Audit Agency (DCAA) and GSA audits.
Preparing requests for equitable adjustment and certified claims.
Conducting due diligence reviews relating to the acquisition of government contractors.
Drafting teaming agreements and subcontracts.
Representative Reported Decisions
Kellogg Brown & Root Services, Inc., ASBCA No. 59557, 2015 WL 427936.
Kellogg Brown & Root Services, Inc., ASBCA Nos. 56358 et al., 14-1 BCA 35639.
United States v. Kellogg Brown & Root Services, Inc., 284 F.R.D. 22 (D.D.C. Aug. 31, 2012).
Kellogg Brown & Root Services, Inc., ASBCA No. 56358, 12-1 BCA ¶ 35001.
United States ex rel. Ubl v. IIF Data Solutions, 650 F.3d 445 (4th Cir. 2011).
Kellogg Brown & Root Services, Inc., ASBCA No. 56358, 11-1 BCA ¶ 34614.
Alion Science & Technology Corp. v. United States, 74 Fed. Cl. 372 (2006).
Alion Science & Technology Corp., B- 297022.4 et al., 2006 CPD ¶ 146.
Europe Displays, Inc., B- 297099, 2005 CPD ¶ 214.
Alion Science & Technology Corp. v. United States, 69 Fed. Cl. 14 (2005).
Lockheed Martin Simulation, Training & Support, B- 292836.8 et al., 2005 CPD ¶ 27.
Lockheed Martin Information Systems, B- 292836 et al., 2003 CPD ¶ 230.
ITT Avionics Div., ASBCA No. 52468 et al., 03-1 BCA ¶ 32238.
Memberships and Affiliations
ABA Public Contract Law Section, Procurement Fraud Committee, Vice Chair
Washington DC Super Lawyers, Government Contracts (2017)
Law360, Government Contracts "Rising Star" (2015)