Your binder contains too many pages, the maximum is 40.
We are unable to add this page to your binder, please try again later.
This page has been added to your binder.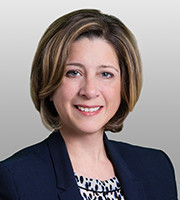 Gina Vetere has ten years of private and public sector experience helping businesses access new markets and protect their IP rights in developed and emerging countries around the world.
Ms. Vetere provides clients public policy and legal counsel on international trade and intellectual property matters. She develops comprehensive strategies and tactical approaches, including building coalitions and direct advocacy of U.S. and international policy-makers, to help clients solve cutting edge international trade and intellectual property issues.
Ms. Vetere has used her deep understanding of bilateral, regional and multilateral agreements related to intellectual property rights to help companies in the life sciences, software, content and consumer goods industries address their international intellectual property and trade-related business challenges.
Global Intellectual Property Center, U.S. Chamber of Commerce, Executive Director, International Intellectual Property (2010-2013)
Office of the U.S. Trade Representative, Director for Intellectual Property and Innovation (2009-2010)
Office of the U.S. Trade Representative, Senior Policy Advisor to the Deputy U.S. Trade Representative (2006 - 2009)
Organization for Security and Cooperation in Europe's Mission to Bosnia and Herzegovina, Deputy Director, Department of Media Affairs (1999-2000)
National Democratic Institute for International Affairs, Resident Representative, Bosnia and Herzegovina, Citizen Election Monitoring, (2000)
National Democratic Institute for International Affairs, Program Officer, Central and Eastern Europe (1996-1999)
Legal 500 US, Trade Secrets (Litigation and Non-Contentious Matters) (2017)