Our Website Uses Cookies
We and the third parties that provide content, functionality, or business services on our website may use cookies to collect information about your browsing activities in order to provide you with more relevant content and promotional materials, on and off the website, and help us understand your interests and improve the website.
For more information, please contact us or consult our Privacy Notice.
Your binder contains too many pages, the maximum is 40.
We are unable to add this page to your binder, please try again later.
This page has been added to your binder.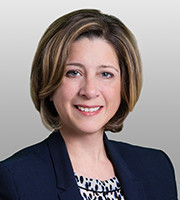 Gina Vetere provides legal and strategic advice to clients on international trade and global policy matters. Ms. Vetere counsels clients on the negotiation, implementation and enforcement of bilateral and multilateral trade agreements, including in the areas of intellectual property, market access, regulatory trade barriers, online commerce, competition, and investment.
Ms. Vetere joined Covington after serving as executive director for international IP at the U.S. Chamber of Commerce's Global Intellectual Property Center (GIPC), where she led industry efforts to promote the protection and enforcement of IP rights overseas. At the GIPC, she also served as co-chair of the U.S. Business Coalition for the Trans-Pacific Partnership's (TPP) IP working group. Ms. Vetere is also a former Director for Intellectual Property and Innovation at the Office of the U.S. Trade Representative (USTR) and Senior Policy Advisor to the Deputy USTR.
Drawing upon this experience, Ms. Vetere assists clients with the development and implementation of comprehensive strategies to address global business challenges, including coalition development, third party engagement, government advocacy, and policy and message development. She has represented companies and associations on a variety of trade-related matters before Congress, the White House, and federal agencies.
Advise clients on the re-negotiation of the North American Free Trade Agreement (NAFTA) and the implementation and modification of the U.S.-Korea Free Trade Agreement (KORUS).
Counsel several leading industry associations on trade enforcement and policy matters.
Advise research-based pharmaceutical, content and technology companies on addressing trade-related intellectual property issues in critical markets, including Canada, China, India and Singapore.
Counsel clients on USTR's Special 301 and Notorious Market processes, Section 301 investigations, and Generalized System of Preferences (GSP) proceedings.
Advise a telecommunication company operating in Colombia on the U.S.-Colombia Trade Promotion Agreement (TPA).
Develop and implement strategy for U.S. beverage company to address regulatory trade barriers in key markets.
Lead anti-counterfeiting working group for an industry association.
Lead broad-based coalition of patent holders concerned about state patent demand letter laws.
Counsel clients on the Trans-Pacific Partnership (TPP), Transatlantic Trade and Investment Partnership (TTIP), and U.S.-China Bilateral Investment Treaty (BIT) negotiations.
Global Intellectual Property Center, U.S. Chamber of Commerce, Executive Director, International Intellectual Property
Office of the U.S. Trade Representative, Director for Intellectual Property and Innovation
Office of the U.S. Trade Representative, Senior Policy Advisor to the Deputy U.S. Trade Representative
Organization for Security and Cooperation in Europe's Mission to Bosnia and Herzegovina, Deputy Director, Department of Media Affairs
National Democratic Institute for International Affairs, Resident Representative, Bosnia and Herzegovina, Citizen Election Monitoring
National Democratic Institute for International Affairs, Program Officer, Central and Eastern Europe
Legal 500 US, Trade Secrets (Litigation and Non-Contentious Matters) (2017)
Education
University of Virginia School of Law, J.D., 2003
John Bassett Moore Society of International Law, President
Virginia Journal of International Law, Senior Editorial Board
Dartmouth College, B.A., 1995