Your binder contains too many pages, the maximum is 40.
We are unable to add this page to your binder, please try again later.
This page has been added to your binder.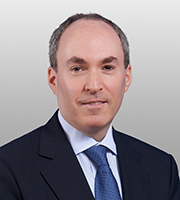 Seth Tucker practices in the fields of litigation and insurance coverage. He litigates in state and federal courts around the country, advises clients in connection with purchasing new insurance policies, and assists clients in pursuing coverage claims outside of litigation. He has also served as an arbitrator. He has represented a diverse client base, including domestic and foreign corporations, religious institutions, educational institutions, non-profits, and individuals, and has litigated or advised clients concerning a wide array of insurance products, including general liability policies, umbrella and excess policies, directors & officers policies, errors & omissions policies, pollution policies, first-party property/business interruption policies, and employee fidelity policies, among others. He is a frequent writer and speaker on insurance topics.

Obtained full coverage for the class-action lawsuit against The Johns Hopkins Health System arising from the misconduct of Nikita Levy, M.D.
Argued the Pilkington case before the Ohio Supreme Court and U.S. District Court, establishing a manufacturer's right to seek insurance coverage under policies issued to a predecessor-in-interest.
Represents a hospital concerning coverage for more than 150 claims alleging abuse by a former staff physician and has secured substantial defense and indemnification funding.
Represents a manufacturer and a transportation company in lawsuits concerning insurance for bodily injuries.
Successfully represented a life sciences company seeking errors and omissions coverage for a claim stemming from a clinical drug trial.
Secured significant recoveries for a manufacturer and an entertainment company that sought coverage for large first-party property losses and related business interruption.
Secured defense and indemnity coverage for a broadcaster that faced mass tort claims stemming from a fatal nightclub fire.
Represented the successor to a mining company in coverage litigation concerning environmental liabilities and negotiated settlements with more than a dozen insurers.
Advised an insured that sustained extensive property damage and business interruption from Hurricane Katrina.
Represented a manufacturer in state and federal lawsuits concerning coverage for environmental and asbestos liabilities and negotiated settlements with the insurers, including a coverage-in-place agreement.
Represented an energy company concerning a specialty pollution insurance policy.
Advises a Catholic diocese in negotiations with its insurers concerning abuse claims.
Represents an Alabama death-row inmate seeking a new trial.
Helped win political asylum for a family from Eastern Europe.
Helped persuade the Department of Justice not to seek the death penalty in a capital murder case.
Memberships and Affiliations
The Insurance Coverage Law Bulletin, Member of the Board of Editors (2004-2016)
The Mid-Atlantic Innocence Project, Member of the Board
Washington Lawyers' Committee for Civil Rights and Urban Affairs, Member of the Board of Trustees
Chambers USA, Insurance: Policyholder (2016-2017)
Best Lawyers in America, Insurance Law (2017-2018)
Legal 500 US, Insurance: Advice to Policyholders (2015)
Euromoney's Expert Guide to the World's Leading Lawyers, Insurance and Reinsurance (2016)
Washington, DC Super Lawyer (2016-2017)
Charles F.C. Ruff Pro Bono Lawyer of the Year (2001)