Our Website Uses Cookies
We and the third parties that provide content, functionality, or business services on our website may use cookies to collect information about your browsing activities in order to provide you with more relevant content and promotional materials, on and off the website, and help us understand your interests and improve the website.
For more information, please contact us or consult our Privacy Notice.
Your binder contains too many pages, the maximum is 40.
We are unable to add this page to your binder, please try again later.
This page has been added to your binder.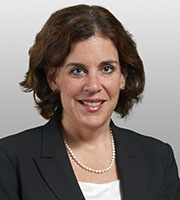 Lee Tiedrich brings together an undergraduate education in electrical engineering and over twenty-five years of legal experience to counsel clients on a broad range of intellectual property and technology transactions matters. She co-chairs Covington's global, multidisciplinary Artificial Intelligence ("AI") initiative. Ms. Tiedrich has been recognized in Legal 500 as a Leading Lawyer for patent licensing and transactions and has been recommended in Legal 500 for her "ability to identify critical issues" and her "extremely strong work ethic." She is registered to practice before the United States Patent and Trademark Office and serves on the Board of Visitors of Duke University's Pratt School of Engineering.
Clients turn to Ms. Tiedrich for advice in a broad range of complex intellectual property and technology transaction matters and policy matters, which often involve cutting-edge technologies (such as AI, Internet of Things, and augmented reality) and require innovative legal and business solutions. She has guided clients through intellectual property and technology matters arising in numerous mergers and acquisitions, investment transactions, joint ventures, and securities offerings. She has extensive experience negotiating complex intellectual property acquisition, licensing, and development agreements, including software and online services agreements, patent licenses, content and media agreements, cloud services and data agreements, branding and trademark license agreements, intellectual property settlement agreements, hardware development agreements, and agreements to obtain rights to intellectual property developed by universities or with government resources. She also counsels clients on strategies for maintaining, protecting, and expanding their intellectual property assets and for navigating privacy and data security matters in the commercial context and in connection with AI governance matters.
Her work spans several industries, including ehealth, fintech and financial services, "big data and analytics," communications and media, life sciences, consumer products, autonomous vehicles/mobility, and energy. She has experience counseling both private and public companies, as well as private equity and venture capital firms in their investments. She has written and spoken on topics such as artificial intelligence, IoT, global innovation, licensing, "big data," and eHealth.
Reliance Industries Ltd in its acquisition of a majority interest in Individual Learning, which operates Embibe, an AI online educational platform.
Aristocrat Leisure Limited in $990 million acquisition of Big Fish Games, Inc.
Mexichem, S.A.B. de C.V. on its $1.895 billion acquisition of an 80 percent stake in Netafim, Ltd., the world's largest irrigation company, from private equity and buyout firm Permira, Kibbutz Magal and Kibbutz Hatzerim.
Famy Care Limited in the $750 million sale of its women's health business to Mylan Laboratories Limited.
UCB in the sale of its specialty generics division to Lannett and, previously, the announced sale to Advent International and Avista Capital Partners.
QUALCOMM in its $2.5bn recommended cash offer for CSR plc and in the purchase of assets of a UK-based 450 MHz handset design and manufacturing company, including the related intellectual property.
Legg Mason, Inc. in its investment in Precidian Investments LLC, a leader in the creation of innovative financial technology products, specializing in exchange-traded fund and mutual fund development, and associated trading and pricing technologies.
Thomson Reuters Corporation in the divestiture of its Healthcare business to affiliates of Veritas Capital for $1.25 billion and in its acquisitions of Information Holdings Inc. (NYSE: IHI) and Solucient.
BBVA in its acquisition of Simple Finance Technology.
Meda AB in its acquisitions of Acton Pharmaceuticals and of MidNite, an OTC sleep aid product.
Johnson & Johnson in a divestiture to Energizer Holdings.
Microsoft in its patent monetization transaction with Nokia and Core Wireless involving 2000+ wireless patents.
Grupo Sura, the Colombian financial group, and its affiliate AFP Integra S.A. in the $516 million acquisition of 50% of AFP Horizonte S.A., the Peruvian pension fund, from BBVA.
Magticom Ltd., the leading mobile operator in the Republic of Georgia, in its acquisition of retail and corporate ISP cable assets from Caucasus Online LLC.
HaloIPT on Qualcomm's acquisition of its automotive wireless charging technology.
National Geographic Society in the sale of its Hampton Brown school publishing business to Cengage Learning, Inc.
King Pharmaceuticals in its $3.6 billion merger with Pfizer.
Medarex in its $2.4 billion merger with Bristol-Myers Squibb.
OptiSolar in its $400 million sale of it project development business to First Solar, Inc.
Numerous clients in stand-alone intellectual property and technology agreements, including license agreements, collaboration and development agreements, reseller and supply agreements, and agreements for marketing and exploiting technology-based products and services.
Procter & Gamble in its sale of ThermaCare, a leading over-the-counter heatwrap, to Wyeth Consumer Healthcare, a division of Wyeth.
Gleacher & Company, Inc. in the sale of substantially all of the assets of its ClearPoint subsidiary to Homeward Residential, Inc., a wholly owned subsidiary of Ocwen Financial.
Charlesbank Capital Partners in its formation of Blacksmith Brands, which purchased the Efferdent, Luden's and PediaCare brands from Johnson & Johnson, and subsequent sale of Blacksmith Brands to Prestige Brands.
The UK-based Dunlop Slazenger Group in its disposition of the Maxfli golf brand and related assets to Taylor Made Golf Company.
MidFirst Bank in its acquisition of Steele Street Bank & Trust.
Illumina in its acquisition of NextBio.
Snow Phipps Group in its acquisition of Acentia (formerly ITSolutions).
XLHealth Corporation, a provider of health care services, in its acquisition of Leprechaun, LLC.
Another major consumer products company in its strategic acquisition and licensing of patents and other intellectual property important for its next generation products.
TouchTunes, the largest out-of-home digital entertainment network, in its acquisition of White Rabbit Game Studio, creators of PlayPorTT and developers of portable, on-location game systems.
AudioCodes, Inc., an Israeli telecommunications equipment manufacturer, in its US acquisitions of two venture-backed companies: Nuera Communications and Netrake Corporation.
New Media Distribution, a Russian-language television programming production and content company, in an equity investment by a Russia-focused private equity fund.
National Geographic Society in the formation and launch of the domestic and international versions of the National Geographic Channel in partnership with NBC and Fox.
Media Counsel to the Chamber Music Society of Lincoln Center.
Learning and Leadership in Families, Inc. (d/b/a LearnLead), an organization that supports school readiness and success in the early grades.
"The State of the District of Columbia Public Schools 2010: A Five Year Update," Washington Lawyers' Committee for Civil Rights and Urban Affairs (August 2010), Co-Author
The publisher of Checkbook Magazine in connection its PatientCentral website.
Memberships and Affiliations
Contributor to Law Committee Chapter in Ethically Aligned Design (First Edition), which was published in 2019 by the IEEE Global Initiative on Ethics of Autonomous and Intelligent Systems (A/IS)

Senior Lecturing Fellow at Duke University Law School

Oxford University Press, Peer Reviewer for the Technology, Media and Telecoms Law Books Division

Member of Global Data Commons Task Force established by UAE Ministry of Artificial Intelligence

Member of the Board of Visitors for the Duke University Pratt School of Engineering

Work Life Law Center, UC Hastings College of the Law, Board Member

Dean's Council for Penn Law Women, Member
Women's Bar Association of DC, member of host committee for 2013 annual dinner

The ABA Section of Science and Technology,

Past Council Member and Committee Chair

Federal Communications Bar Association, past Co-Chair of the Online Communications Committee
Washington DC Super Lawyers, Intellectual Property (2013-2017)
IAM Patent 1000 - The World's Leading Patent Professionals (2012-2015)
Recommended by Legal 500 US for Media, Technology and Telecoms - Technology - Transactions (2017)
Recognized by Legal 500 US for IP - Patent Licensing and Transactional (2010-2015)
Recommend by Legal 500 US for Intellectual Property - Trademarks: Non-contentious - Full Coverage (2013-2014)
Education
University of Pennsylvania Law School, J.D., 1991
Duke University, B.S.E., 1988
magna cum laude
Phi Beta Kappa