Our Website Uses Cookies
We and the third parties that provide content, functionality, or business services on our website may use cookies to collect information about your browsing activities in order to provide you with more relevant content and promotional materials, on and off the website, and help us understand your interests and improve the website.
For more information, please contact us or consult our Privacy Notice.
Your binder contains too many pages, the maximum is 40.
We are unable to add this page to your binder, please try again later.
This page has been added to your binder.
Erin Thomas
Special Counsel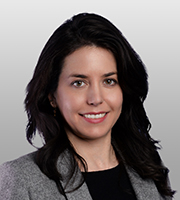 Erin Thomas advises clients in international commercial and investment arbitrations involving a wide range of industries geographic regions, with a particular focus on construction and natural resource disputes. She has represented clients in international arbitrations under the ICC, LCIA, ICDR, ICSID, UNCITRAL and SIAC rules. Ms. Thomas also advises clients on the litigation of international disputes in the United States and abroad, and has represented institutions and individuals in general commercial litigation.
Ukraine's state-owned oil and gas company, Naftogaz of Ukraine, in an investment dispute with the Russian Federation arising from Russia's unlawful occupation of Crimea.
A state-owned oil company in ICC and LCIA arbitrations arising out of the construction of a gas-to-liquid plant in the Caribbean. Obtained a favorable award of specific performance, costs, and interest in the ICC arbitration and dismissal of all claims asserted against our client in the LCIA arbitration.
The South American subsidiary of a mining company in an ICDR arbitration commenced under an EPC contract for the construction of a transmission line.
The South American subsidiary of a Chinese mining company in an ICC arbitration arising out of an equipment sale contract with a Chinese supplier.
A mining company in disputes arising out of EPC and EPCM contracts in connection with a major mining project in South America.
Two Brazilian companies involved in the construction, operation and maintenance of thermoelectric power plants in Brazil in an ICC arbitration commenced by a multinational equipment manufacturer.
A recording company in the challenge of a Section 1782 application made in the SDNY in connection with a German lawsuit.
A subsidiary of a UK water services company in an UNCITRAL arbitration commenced by the water and sewage agency of a Central American state relating to the administrative cancellation of a concession for the design, construction, operation and maintenance of a drinking water plant.
Korean companies in strategic consideration of potential claims against parties in foreign insolvency proceedings.
An oil & gas company in a dispute with a joint venture party arising out of a joint operating agreement.
The South American subsidiary of a European engineering company in a ICC arbitration relating to the expansion of a paper mill plant.
A U.S. oil & gas company in an annulment proceeding relating to a multi-billion dollar ICSID award against a South American state, in a dispute arising out of alleged breaches of a bilateral investment treaty and a production sharing agreement in Africa.
A supplier of liquefied natural gas in connection with contract sales price reviews.
A major financial institution in a SIAC arbitration arising out of an options contract with a Malaysian company. Obtained favorable settlement prior to hearing.
A major financial institution in an LCIA arbitration arising out of a derivatives transaction with an Indian company.
Major financial institutions in disputes arising out of derivatives transactions, including litigations commenced or threatened in New York, Thailand, Hong Kong, and Singapore.
Ms. Thomas has represented Yemeni detainees in Guantanamo Bay.
Associate in the international arbitration group of a major international law firm (2007-2013).
Education
Harvard Law School, J.D., 2007
Cambridge University, M.Phil., 2003
The University of Chicago, B.A., 2002