Our Website Uses Cookies
We and the third parties that provide content, functionality, or business services on our website may use cookies to collect information about your browsing activities in order to provide you with more relevant content and promotional materials, on and off the website, and help us understand your interests and improve the website.
For more information, please contact us or consult our Privacy Notice.
Your binder contains too many pages, the maximum is 40.
We are unable to add this page to your binder, please try again later.
This page has been added to your binder.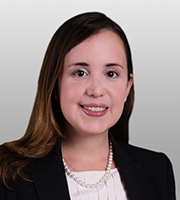 Clovis Trevino specializes in public international law and international commercial and investment arbitration. She has represented private entities and States in international commercial, investor-State, and State-to-State arbitration proceedings, including under ICSID, ICC, UNCITRAL, and UNCLOS rules.
Ms. Trevino is an adjunct professor at the George Washington University Law School. She has authored or co-authored a number of publications on international arbitration and is a frequent speaker on this topic.
A U.S. construction materials company in an investment treaty arbitration against Mexico under the North American Free Trade Agreement.
Ukraine in a dispute against the Russian Federation before the International Court of Justice involving terrorism financing and racial discrimination.
Ukraine in an arbitration under the U.N. Convention on the Law of the Sea arising out of the Russian Federation's interference with Ukraine's coastal state rights in the waters adjacent to Crimea.
A leading Ukrainian financial group in an investment treaty arbitration arising out of Russia's expropriation of tourism-related assets in Crimea.
A major pharmaceutical company in a $1.8 billion arbitration involving allegations of breach of contract and misappropriation of trade secrets (decision pending).
Two Swiss labor union federations in UNCITRAL arbitrations against global fashion brands under the Bangladesh Accord on Fire and Building Safety, settled following a favorable decision on jurisdiction and admissibility.
Subsidiaries of Mexican food conglomerate Gruma in an investment treaty arbitration against Venezuela over the expropriation of food production assets, resulting in a favorable award (annulment ongoing).
Tidewater in ICSID annulment proceedings and successful award enforcement under the Foreign Sovereign Immunities Act (concluded).
A major U.S. defense contractor in a commercial arbitration under the Rules of the American Arbitration Association (settled).
A coalition of human rights advocates in the submission of an amici curiae brief in support of the petitioners in the case of Ángel Alberto Duque v. Colombia (Case 12.841) before the Inter-American Court of Human Rights.
Memberships and Affiliations
Frankfurt Investment Arbitration Moot, Coach of the University of Miami Law School team (2014-2015)
Young ICCA
Education
Graduate Institute of International and Development Studies, LL.M., 2012
International Dispute Settlement (MIDS)
summa cum laude
Hans Wilsdorf Scholar
Georgetown University Law Center, J.D., 2008
University of North Carolina at Chapel Hill, B.A., 2005
summa cum laude
Phi Beta Kappa