Your binder contains too many pages, the maximum is 40.
We are unable to add this page to your binder, please try again later.
This page has been added to your binder.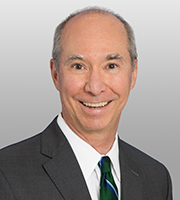 Sturgis Sobin has represented clients in more than 50 intellectual property cases, including 23 trials, before the U.S. International Trade Commission under Section 337, as well as in related U.S. District Court litigation. This fast-paced litigation has involved patent, trademark, copyrights and trade secret issues, and has often required the development and implementation of complex worldwide litigation and licensing strategies.
Mr. Sobin has served as lead trial counsel in multiple large and complex trials covering a range of technologies and commercially valuable IP rights. He has also served as lead global managing counsel for multinational intellectual property and commercial disputes.
Mr. Sobin is a co-author of a leading treatise on Section 337 and his section 337 practice has been noted in such publications as The Wall Street Journal, The American Lawyer, The Recorder, and Legal Times.
He has been invited to speak on Section 337 and international IP enforcement issues before professional and business groups, including the California, District of Columbia, Federal Circuit, ITC Trial Lawyers, and America Bar Associations, as well as intellectual property law professionals in Korea, China and Taiwan.
Communications or Computing Devices and Components Thereof, Inv. No. 337-TA-925 (Enterprise v. Samsung)
MEMS Devices and Products Containing Same, Inv. No. 337-TA-825 (Knowles v. ADI)
Wireless Devices with 3G Capabilities and Components Thereof, Inv. No. 337-TA-800 (InterDigital v. Huawei et al.)
Light-Emitting Diodes and Products Containing Same, Inv. No. 337-TA-785 (OSRAM v. Samsung)
Vaginal Ring Birth Control Devices, Inv. No. 337-TA-768 (Femina Pharma v. Merck)
Wireless Communication Devices and Systems, Components Thereof, and Products Containing Same, Inv. No. 337-TA-775 (Linex v. Apple, HP et al.)
MLC Flash Memory Devices and Products Containing Same, Inv. No. 337-TA-683 (BTG v. Samsung et al.)
Semiconductor Integrated Circuits Using Tungsten Metallization, Inv. No. 337-TA-648 (LSI/Agere v. UMC, ProMOS, et al.)
Hard Disk Drives, Inv. No. 337-TA-616 (Reiber v. Seagate)
Flash Memory Devices, Inv. No. 337-TA-619 (SanDisk v. multiple respondents)
Systems for Detecting and Removing Computer Viruses or Worms, Inv. No. 337-TA-510 (Trend v. Fortinet)
Set Top Boxes, Inv. No. 337-TA-454 (GemStar v. Echostar (Dish TV))
Excimer Lasers, Inv. No. 337-TA- 419 (VISX v. Nidek)
Optical Waveguide Fibers, Inv. No. 337-TA- 189 (Corning v. Sumitomo Electric)
Systems for Detecting Computer Viruses/Worms, 337-TA-510 (Trend Micro v. Fortinet)
Automated Mechanical Truck Transmission Systems, 337-TA-503 (Eaton v. ZF Meritor, et al.)
Human Growth Hormone, 337-TA-358 (Genentech v. Novo Nordisk et al.)
Cell Phones, 337-TA-297 (Motorola v. Nokia)
DRAMs, 337-TA-242 (Texas Instruments v. NEC et al.)
Recognized by The Am Law Litigation Daily as one of the "Litigators of the Week" (11/18/2016)
Chambers USA - America's Leading Business Lawyers, International Trade/IP - Section 337 (2009-2017)
Chambers Global, International Trade - Intellectual Property (Section 337) (U.S.) (2014-2017)
Legal 500 US, "Leading Lawyer" - Patent Litigation: International Trade Commission (2014-2017)
IAM Patent 1000 - "Highly Recommended" International Trade Commission, The World's Leading Patent Practitioners (2015-2016)
Washington DC Super Lawyers, Intellectual Property (2014-2015, 2017)
Education
American University, Washington College of Law, J.D., 1983
Harvard University, B.A., 1977