Our Website Uses Cookies
We and the third parties that provide content, functionality, or business services on our website may use cookies to collect information about your browsing activities in order to provide you with more relevant content and promotional materials, on and off the website, and help us understand your interests and improve the website.
For more information, please contact us or consult our Privacy Notice.
Your binder contains too many pages, the maximum is 40.
We are unable to add this page to your binder, please try again later.
This page has been added to your binder.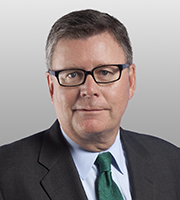 Scott F. Smith leads the firm's M&A and private equity efforts. He is a principal advisor to companies, private equity funds, including Illumina, Indivior, SandRidge Energy, Charlesbank Capital Partners, and Public Pension Capital. He advises corporate boards, special committees and audit committees on corporate governance and general securities law matters.
Mr. Smith led the Covington team advising Abbvie in its $5.8 billion acquisition of Stemcentrx, Indivior in its demerger from Reckitt Benckiser, P&G in the $3.1 billion sale of its global pharmaceutical business to Warner Chilcott, Omthera Pharmaceuticals in its $433 million merger with AstraZeneca, King Pharmaceuticals in its $3.6 billion merger with Pfizer, Medarex in its $2.4 billion merger with Bristol-Myers Squibb, Kerr-McGee in its $18 billion merger into Anadarko Petroleum Corp., and SandRidge Energy in its $1.3 billion acquisition of Dynamic Offshore Resources and $1.6 billion acquisition of Arena Resources, and the $2.6 billion sale of its Permian Basin Assets. He has advised Kerr-McGee, SandRidge Energy, and Computer Associates in the defense of hostile proxy contests.
Private equity work includes the sale by Charlesbank Capital Partners of American Tire Distributors and Regency Gas Services, Healthpoint Capital's merger of Scient'x with Alphatec, and the acquisition by Public Pension Capital of KVK.
Other M&A transactions include Coty's purchase of Del Labs from Kelso and of Unilever's global fragrance business and the sale of its Chinese cosmetics business to L'Oreal, Pfizer's acquisition of Idun Pharma and Coley Pharmaceuticals, and Johnson & Johnson's acquisitions of Atrionix, Inc. and TERAMed, Inc.
Global M&A Network, Top 50: Global M&A Lawyer (2014)
Law360, "MVP of the Year, Mergers & Acquisitions" (2011)
"Dealmaker of the Week" by The AmLaw Daily for advising SandRidge Energy on its acquisition of Arena Resources (4/9/2010).
Chambers USA - America's Leading Business Lawyers, Corporate/M&A (2008-2018)
Chambers Global, Corporate/M&A (2015-2018)
The Best Lawyers in America, Corporate (2008-2018)
New York Super Lawyers, Mergers & Acquisitions and Business/Corporate (2006-2014)
Legal 500 US, Mergers & Acquisitions - M&A: Large Deals (2009-2017)
Legal 500 US, M&A - National Firms - Large Deals and Private Equity Buyouts: Middle Market (2008)