Our Website Uses Cookies
We and the third parties that provide content, functionality, or business services on our website may use cookies to collect information about your browsing activities in order to provide you with more relevant content and promotional materials, on and off the website, and help us understand your interests and improve the website.
For more information, please contact us or consult our Privacy Notice.
Your binder contains too many pages, the maximum is 40.
We are unable to add this page to your binder, please try again later.
This page has been added to your binder.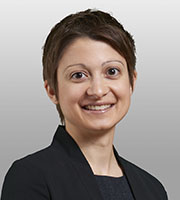 Kayleigh Scalzo represents clients in a broad array of high- stakes litigation matters with the government and other private parties. She litigates bid protests at the Government Accountability Office, Court of Federal Claims, state courts, and before federal and state agencies. Ms. Scalzo also litigates Administrative Procedure Act cases and other civil matters in the U.S. Courts of Appeals and U.S. District Courts.

Ms. Scalzo is a Mentoring Group Leader for the Washington office's Women's Forum. She maintains an active pro bono practice focused on immigration issues and gender rights.
Bid protests in a variety of forums:

Successfully defended award of multi-billion-dollar Medicaid managed care contract against multiple protests in Kansas state court.
Successful defended award of Department of Veterans Affairs contracts valued at up to $7 billion.
Successfully protested award of contract before the FAA's Office of Dispute Resolution for Acquisition, obtaining relief through mediation.
Successfully defended award to pharmacy benefits manager of $500 million contract by a county government in California.
Successfully defended award of $100 million biometrics contract by the Department of Homeland Security.
Successfully defended $50 million sole-source contract extension to air combat services contractor.
Successfully defended award to State Department contractor of embassy "life support services" contract valued at up to $1 billion in consolidated GAO bid protests and related Court of Federal Claims litigation.
Litigation in the federal district courts and courts of appeals:

Successfully overturned debarment through Administrative Procedure Act challenge in the U.S. District Court for the District of Columbia.
Through motions practice, won a complete voluntary dismissal of a veiled bid protest brought in district court.

Prime-sub disputes. Advised a leading defense contractor on a multi-million-dollar prime-subcontractor dispute in connection with a NATO contract.
Contractor investigations and disclosures. Conducted an internal investigation for an IT services contractor, addressing unauthorized access to information systems.
Compliance counseling. Advised a Fortune 100 financial services corporation on all aspects of federal contracting, including legal review of solicitations, contract administration, and novation of existing contracts in connection with the company's global reorganization of various business units.
Obtained asylum for a West African man who suffered persecution in his native country based on his sexual orientation.
Represents a Central American woman seeking asylum based on persecution suffered in her native country.
Represented two female soldiers challenging the now- defunct Army policy excluding women from combat assignments.
Washington DC Super Lawyers, Government Contracts "Rising Star" (2018)
Education
The George Washington University Law School, J.D., 2011
The George Washington Law Review, Editor-in-Chief
With Highest Honors
Order of the Coif
2011 ALI-ABA Scholarship and Leadership Award (member of the graduating J.D. or L.L.M. class who best represents a combination of scholarship and leadership)
Harold H. Greene & Joyce Hens Green National Security Law Moot Court Competition, First Place Team, 2011
Brown University, A.B., 2008
magna cum laude
Phi Beta Kappa
Honors in International Relations
Samuel C. Lamport Prize (best thesis on international understanding with an emphasis on cooperation and tolerance)
Université Lumière Lyon 2, 2007
Institut d'Études Politiques, Lyon, 2007