Your binder contains too many pages, the maximum is 40.
We are unable to add this page to your binder, please try again later.
This page has been added to your binder.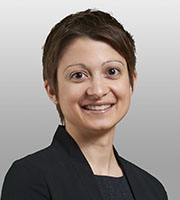 Kayleigh Scalzo represents civilian and defense contractors in a broad array of high-stakes litigation matters and procurement issues. She litigates government contracts disputes and general civil cases in the U.S. Courts of Appeals, U.S. District Courts, U.S. Court of Federal Claims, and Government Accountability Office. Her advisory practice spans a number of subject areas, including novations and other regulatory issues involved in M&A transactions and corporate reorganizations.
Ms. Scalzo is a Mentoring Group Leader for the Washington office's Women's Forum. She also maintains an active pro bono practice focused on gender rights and military personnel issues.
Bid protests in the Court of Federal Claims and GAO. Successfully defended award to State Department contractor of embassy "life support services" contract valued at up to $1 billion in consolidated GAO bid protests and related Court of Federal Claims litigation.
Litigation in the federal district courts and courts of appeals. Through motions practice, won a complete voluntary dismissal of a veiled bid protest brought in district court against the U.S. and our client, an IT services contractor.
Prime-sub disputes. Advised a leading defense contractor on a multi-million-dollar prime-subcontractor dispute in connection with a NATO contract.
Contractor investigations and disclosures. Conducted an internal investigation for an IT services contractor, addressing unauthorized access to information systems.
Complex claims. Prepared a $3 million dollar request for equitable adjustment for a large construction company in connection with an overseas contract for the Naval Facilities Engineering Command.
Compliance counseling. Advised a Fortune 100 financial services corporation on all aspects of federal contracting, including legal review of solicitations, contract administration, and novation of existing contracts in connection with the company's global reorganization of various business units.
Represents a Central American woman seeking asylum in the United States based on domestic violence suffered in her native country.
Represented two female soldiers in challenging the now-defunct Army policy excluding women from combat assignments.