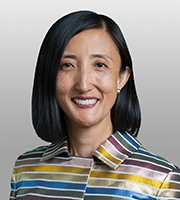 Clara Shin is an experienced trial lawyer who specializes in intellectual property and complex commercial disputes. She co-chairs the firm's Commercial Litigation Practice Group.
Clients frequently call on Ms. Shin in late stages of litigation to take matters to trial or reorient the strategic direction of a case. According to one client, "Clara combines exceptional intelligence with strategic business focus in a way that sets her apart from other top trial lawyers." Recognized as a litigation "Game Changer" by The Recorder and for delivering one of California's top verdicts by the Daily Journal, she has helped to make law in emerging areas by litigating landmark cases, including winning an appellate ruling defining the scope of software licensing and the first sale doctrine under copyright law. Ms. Shin's most recent trial wins include a complete defense victory in a trade secret dispute where the plaintiff sought damages of nearly half-a-billion dollars, a $34 million judgment for a class of venture capital funds in a software contract dispute, and a unanimous jury verdict and punitive damages award in a trademark infringement trial.
Earlier in her career, Ms. Shin served as a White House Fellow and Special Assistant in the White House Office of the Chief of Staff. She also helped to design and launch the AmeriCorps national service program.