Our Website Uses Cookies
We and the third parties that provide content, functionality, or business services on our website may use cookies to collect information about your browsing activities in order to provide you with more relevant content and promotional materials, on and off the website, and help us understand your interests and improve the website.
For more information, please contact us or consult our Privacy Notice.
Your binder contains too many pages, the maximum is 40.
We are unable to add this page to your binder, please try again later.
This page has been added to your binder.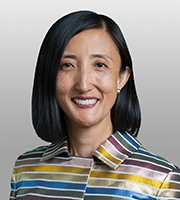 Clara Shin is an experienced trial lawyer who specializes in intellectual property and complex commercial disputes. She co-chairs the firm's Commercial Litigation Practice Group.
Clients frequently call on Ms. Shin in late stages of litigation to take matters to trial or reorient the strategic direction of a case. According to one client, "Clara combines exceptional intelligence with strategic business focus in a way that sets her apart from other top trial lawyers." Recognized as a litigation "Game Changer" by The Recorder and for delivering one of California's top verdicts by the Daily Journal, she has helped to make law in emerging areas by litigating landmark cases, including winning an appellate ruling defining the scope of software licensing and the first sale doctrine under copyright law. Ms. Shin's most recent trial wins include a complete defense victory in a trade secret dispute where the plaintiff sought damages of nearly half-a-billion dollars, a $34 million judgment for a class of venture capital funds in a software contract dispute, and a unanimous jury verdict and punitive damages award in a trademark infringement trial.
Earlier in her career, Ms. Shin served as a White House Fellow and Special Assistant in the White House Office of the Chief of Staff. She also helped to design and launch the AmeriCorps national service program.
Led trial team that obtained a complete defense victory for a McKesson Corporation subsidiary against a plaintiff seeking damages of nearly half a billion dollars in a trade secrets dispute.
Led trial team that won a $34 million judgment for Draper Esprit, Scottish Equity Partners, and a defendant class of former Zeus Technology investors in a software technology and cross-border earn-out dispute.
Led trial team that won a unanimous jury verdict against Quiksilver on willful federal trademark infringement, common law trademark infringement, and federal unfair competition claims; punitive damages; and attorneys' fees and costs.
Lead counsel for McKesson Corporation in a $190 million breach of NDA and trade secrets lawsuit that was successfully resolved.
Lead counsel for Microsoft Corporation in a breach of license agreement and copyright infringement case where Microsoft won a summary adjudication ruling on its contract claim and defeated a Second Circuit petition for a writ of mandamus and motion to stay enforcement of the summary adjudication ruling.
Lead counsel for Abbott Diabetes Care Inc. and Abbott Laboratories in securing a precedential affirmance by the Federal Circuit of the district court's denial of attorneys' fees.
Representation of Autodesk in a successful Ninth Circuit appeal of an adverse ruling regarding the Copyright Act's first sale and essential step doctrines.
Memberships and Affiliations
Chair, Rosenberg Foundation
Former Board Member, Smithsonian Institution's National Portrait Gallery, National Partnership for Women and Families, United States District Court Northern District of California Historical Society, One Justice, Music National Service, Asian Pacific Fund
BTI Consulting Group, "Client Services All-Stars" (2017-2018)
The Recorder, Litigation "Game Changer" (2017)
Daily Journal, Top 100 Women Lawyers (2017)
Benchmark Litigation, "National Litigation Star" (2018)
Benchmark California "Litigation Star" (2018)
Daily Journal, Top Intellectual Property Attorneys (2014)
Daily Journal, Top Verdicts (2013-2014)
Northern California Super Lawyers, Top 50 Women (2015)
Northern California Super Lawyers, Intellectual Property Litigation (2013-2017)
Legal 500 US, Intellectual Property - Copyright (2013-2017) and Dispute Resolution - Appellate - Supreme Court (2017)