Our Website Uses Cookies
We and the third parties that provide content, functionality, or business services on our website may use cookies to collect information about your browsing activities in order to provide you with more relevant content and promotional materials, on and off the website, and help us understand your interests and improve the website.
For more information, please contact us or consult our Privacy Notice.
Your binder contains too many pages, the maximum is 40.
We are unable to add this page to your binder, please try again later.
This page has been added to your binder.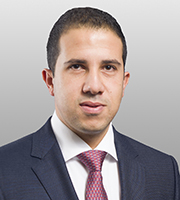 Ramy Ramadan is a member of the firm's corporate group. His practice focuses on mergers and acquisitions, including public and private acquisitions and divestitures, cross-border transactions and joint ventures. Mr. Ramadan also advises clients on general corporate matters, securities offerings and technology and IP transactions.
Mr. Ramadan also represents clients in a broad range of matters relating to or arising from the Middle East and North Africa, including corporate and transactional matters, policy matters and regulatory investigations. He speaks Arabic with native fluency and has significant experience in the MENA region.
Mergers and Acquisitions
Bacardi in its $5.1 billion acquisition of Patrón Spirits International AG and its PATRÓN® brand, the world's top-selling ultra-premium tequila, from John Paul DeJoria, a founder of Patrón.
UCB S.A. in its $1.53 billion sale of its U.S. specialty generics subsidiary, Kremers Urban Pharmaceuticals Inc., to Lannett Company.
AstraZeneca in:

the $575 million acquisition of Takeda's respiratory business; and
the sale of its U.S. and Canada rights to its Zoladex® product to TerSera Therapeutics for up to $350 million.
Dutch private equity fund Gilde Equity Management Benelux B.V. in its $41 million acquisition of Onguard Industries from Ansell Limited.
India-based Famy Care Limited in its $750 million sale of its women's health business to Mylan Laboratories Limited.
The Collins Family Trust in its $260 million acquisition of Inter National Bank from Grupo Financiero Banorte.
Fortune 500 company in its complex joint venture with a major beverage company to develop an in-home system.
Eisai Inc. in:

the sale of its Research Triangle Park manufacturing campus to Biogen Inc.; and
the sale of its subsidiary, AkaRx, Inc., to PBM Capital Group, LLC.
Capital Markets
The underwriters in the $38.1 million initial public offering of common stock of National Commerce Corporation.
The underwriters in the $44.6 million initial public offering of common stock of CapStar Financial Holdings, Inc.
HealthSouth Corporation in its $300 million offering of 5.125% senior notes due 2023.
Middle East
Egyptian investment bank Beltone Financial Holding in its acquisition of 60% of NY-based Auerbach Grayson & Company.
A global beverage company in connection with its partnership with a Fortune 100 company in the Middle East.
A major Middle Eastern energy company in cross-border negotiations for the purchase of security equipment and services.
A global dredging company in connection with its contract for the deepening and widening of the Suez Canal.
Fortune 100 company in connection with an investigation in relation to its Egyptian operations.
Bahgat v. Arab Republic of Egypt, 631 F. App'x 69 (2d Cir. 2016), as co-counsel for the Arab Republic of Egypt in this Foreign Sovereign Immunities Act appeal. In 2016, the Second Circuit unanimously ruled in Egypt's favor.
Advising an international non-profit organization regarding a development project in Africa.
Advised a global non-governmental organization on legal reform issues in the Middle East.
U.S. Securities and Exchange Commission, Division of Corporation Finance, Law Clerk
U.S. Patent and Trademark Office, Patent Examiner
U.S. Securities and Exchange Commission, Division of Enforcement, Law Clerk