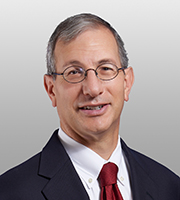 Neil Roman has more than 30 years' experience litigating a wide range of civil matters, including trademark, copyright, insurance coverage, and antitrust.
Mr. Roman has litigated these matters for an equally wide variety of clients. He served for over a decade as lead national copyright litigation counsel for the National Football League and has since 2004 served as lead national trademark litigation counsel for the American Automobile Association (AAA). He has recently tried two trademark infringement cases - one against clothing manufacturer and retailer Quiksilver, winning a multi-million dollar jury verdict, and one on behalf of a Washington, DC area automobile dealership, winning a permanent injunction. More broadly, Mr. Roman has been involved in high stakes litigation, including the World Trade Center insurance coverage litigation, the BP Deepwater Horizon oil spill litigation, the Takata airbag litigation, and, most recently, the national opioid litigation on behalf of McKesson. Mr. Roman also represents pro bono clients, including Leigh Corfman in her defamation action against Roy Moore in Alabama state court.
Mr. Roman is a native New Yorker and spent nearly five years in the New York office before relocating in early 2020 to the Washington office where he started his career and where he served as the firm's Managing Partner for Legal Personnel and hiring partner. Mr. Roman is a member of the New York and District of Columbia bars and has cases in both jurisdictions as well as in courts across the country.