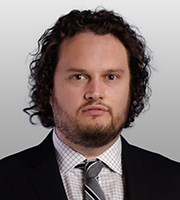 Adrian Perry's practice focuses on matters involving emerging and innovative uses of technology, intellectual property, and data. Mr. Perry works with clients across a range of industries, with a particular focus on advising sports leagues and teams, record companies, television programmers and other entertainment companies on technology transactions, and advising clients on data and content licensing through digital and mobile platforms. Mr. Perry is part of the firm's Artificial Intelligence and Internet of Things initiatives, advising on deals involving AI and IoT products, and is also the Corporate lead for the firm's Music Industry practice. Mr. Perry also regularly counsels clients on sponsorship transactions and has significant experience in the ad tech, digital marketing, travel, and beverage industries.
A musician who has toured internationally, Mr. Perry brings to his legal practice significant experience in the entertainment and media industries. He has licensed his original music for film and television, worked as an A&R consultant for both Columbia Records and Epic Records, and has experience in television production, spending two seasons working for Saturday Night Live prior to law school.
In addition to stand-alone intellectual property and technology transactions, Mr. Perry has advised numerous clients on the intellectual property, privacy and technology aspects of private equity, M&A, joint venture, financing, and other corporate transactions. Mr. Perry is a certified information privacy professional (CIPP/US).
Mr. Perry's past and current clients include American Airlines, AMC, Bacardi, BMI, CBS, Global Music Rights, the L.A. Clippers, the NBA, the NFL, the NHL, the National Music Publishers' Association, Ovation, Smithsonian Channel, Sony Music Entertainment, Squarespace, Universal Music Group, Univision, Viacom, and the WWE.