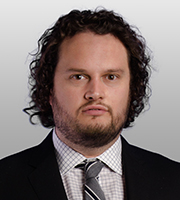 Clients across a range of industries engage Adrian Perry in matters relating to the licensing, acquisition, development, sale, use, and commercial exploitation of intellectual property, technology and data. Mr. Perry has particular expertise advising clients with respect to content licensing and distribution issues, including through digital and mobile platforms, and advising sports leagues, and media and entertainment companies, with respect to their technology transactions. Mr. Perry also has significant experience advising clients in the technology, travel, and beverage industries.
A musician who has toured internationally, Mr. Perry brings to his legal practice significant experience in the entertainment and media industries. He has licensed his music for film and television, worked as an A&R consultant for a major record label for several years, and has experience in television production, spending two years working for a late night network comedy show.
In addition to stand-alone intellectual property and technology transactions, Mr. Perry has advised clients on the intellectual property, privacy and technology aspects of private equity, M&A, joint venture, financing, and other corporate transactions. Mr. Perry is also a certified information privacy professional (CIPP/US).