Our Website Uses Cookies
We and the third parties that provide content, functionality, or business services on our website may use cookies to collect information about your browsing activities in order to provide you with more relevant content and promotional materials, on and off the website, and help us understand your interests and improve the website.
For more information, please contact us or consult our Privacy Notice.
Your binder contains too many pages, the maximum is 40.
We are unable to add this page to your binder, please try again later.
This page has been added to your binder.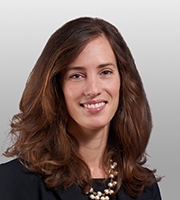 Bianca Nunes is an associate in the firm's Washington, DC office, where she is a member of the Food and Drug practice group. She advises food, pharmaceutical, and biotechnology companies on a variety of regulatory and compliance issues.
Advised food companies on compliance with FDA's menu and vending machine labeling requirements.
Counseled clients on the Dietary Guidelines Advisory Committee's (DGAC) recommendations for the 2015 Dietary Guidelines for Americans and drafted comments to the DGAC.
Advised biotechnology company on product-specific biologics life cycle strategies after enactment of the Biologics Price Competition and Innovation Act of 2009.
Capital Group, Senior Portfolio Control Analyst (2007-2011)
Tufts Medical Center, Research Assistant (2005-2007)