Your binder contains too many pages, the maximum is 40.
We are unable to add this page to your binder, please try again later.
This page has been added to your binder.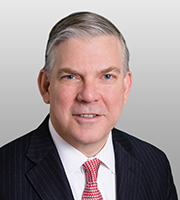 Combining his four years' experience at the center of some of the nation's most critical public policy debates as Chief of Staff to the late Senator Edward M. Kennedy, and his more than 20 years of experience advising and representing financial institutions, Eric Mogilnicki focuses his practice on assisting clients with Consumer Financial Protection Bureau (CFPB) investigations, examinations and enforcement actions. Mr. Mogilnicki served in the Senate when the Bureau was designed, and has been a national leader within the private bar on CFPB issues since the Bureau first opened its doors in 2011. His CFPB experience spans the lifecycle of interactions with the CFPB, including:
counseling clients facing informal requests for information from the Bureau;
providing financial institutions and other interested parties with product reviews, mock examinations and other guidance prior to the commencement of CFPB examinations;
representing entities in responding to CFPB civil investigative demands, including Petitions to Withdraw the CID;
negotiating Consent Orders with the CFPB; and
assisting financial institutions in complying with CFPB Consent Orders.
Mr. Mogilnicki's clients include major banks and credit card issuers, federal credit unions, and national financial trade associations. Mr. Mogilnicki also represents major corporations with financing subsidiaries that received CFPB scrutiny.
Mr. Mogilnicki chairs the Federal and State Trade Practices Subcommittee of the American Bar Association Committee on Consumer Financial Services, and frequently writes and speaks on CFPB issues. One such article successfully urged the CFPB to adopt a process similar to the SEC's "Wells Notice" process so that potential defendants would have an opportunity to know and rebut the Bureau's charges before they became public.
Chief of Staff to the late Senator Edward M. Kennedy (2006-2009)
Chief of Staff to Senator Paul G. Kirk Jr., who succeeded Senator Kennedy (2009-2010)
Chambers USA, Financial Services Regulation: Consumer Finance (2017)
Legal 500 US, Finance - Financial Services Regulation (2017)
The American Lawyer, Lateral All-Star (2016)
The Best Lawyers in America, Banking and Finance Law (2017)