Charles A. Miller
Senior Counsel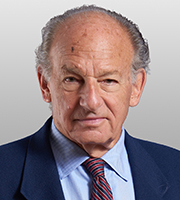 Charles A. Miller is resident in our DC office and practices in the areas of Federal-State Programs, Health Care and Litigation, including Appellate and Supreme Court litigation. Mr. Miller consults and represents state and local health and welfare agencies, consulting firms, health care providers and public educational institutions on all aspects of federal law and policies governing Medicaid and other federally-funded programs, such as Medicare, Children's Health Insurance Programs, Temporary Assistance to Needy Families, Child Support Enforcement, Title IV-E Foster Care and Adoption Assistance, and SNAP (Food Stamps).
Mr. Miller's practice embraces advice, assistance in pursuing administrative approvals, legislation, and court and administrative litigation. This includes helping clients to understand and comply with the Affordable Care Act and related laws and regulations that are transforming the health care industry and are having a major impact on state programs and fiscal policy.
Mr. Miller has extensive appellate court experience, having appeared frequently before the United States Supreme Court, most federal courts of appeal, a number of federal district courts and various state courts throughout the country.