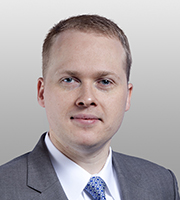 As an associate in the firm's dispute resolution practice group, William Lowery's practice covers a range of complex international disputes, including arbitrations and cross-border litigation. He has represented clients in ad hoc proceedings and arbitrations governed by the rules of the American Arbitration Association (AAA), International Chamber of Commerce (ICC), the London Court of International Arbitration (LCIA), the London Maritime Arbitrators Association (LMAA) and the United Nations Commission on International Trade Law (UNCITRAL). Mr. Lowery advises on matters concerning a number of industries, with specific experience in the energy and natural resources sectors.
Mr. Lowery also has experience advising clients on the impact and related compliance requirements of sanctions and trade controls imposed by the European Union and the United States.
Mr. Lowery is a member of the Bar of New York. District of Columbia bar application is pending; supervised by principals of the firm.