Our Website Uses Cookies
We and the third parties that provide content, functionality, or business services on our website may use cookies to collect information about your browsing activities in order to provide you with more relevant content and promotional materials, on and off the website, and help us understand your interests and improve the website.
For more information, please contact us or consult our Privacy Notice.
Your binder contains too many pages, the maximum is 40.
We are unable to add this page to your binder, please try again later.
This page has been added to your binder.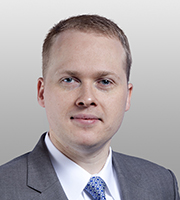 As an associate in the firm's dispute resolution practice group, William Lowery's practice covers a range of complex international disputes, including arbitrations and cross-border litigation. He has represented clients in ad hoc proceedings and arbitrations governed by the rules of the American Arbitration Association (AAA), International Chamber of Commerce (ICC), the London Court of International Arbitration (LCIA), the London Maritime Arbitrators Association (LMAA) and the United Nations Commission on International Trade Law (UNCITRAL). Mr. Lowery advises on matters concerning a number of industries, with specific experience in the energy and natural resources sectors.
Mr. Lowery also has experience advising clients on the impact and related compliance requirements of sanctions and trade controls imposed by the European Union and the United States.
Representing an investment company in an LCIA arbitration under the terms of a shareholders' agreement with a value in dispute exceeding $80 million. The dispute relates to the operations of an oil terminal connected to the CPC pipeline.
Representing a logistics company for the defense sector in ad hoc arbitration proceedings arising from a multinational entity's failure to pay invoices.
Representing a major gas utility company in a LNG price-review arbitration under the UNCITRAL rules with a value in dispute of approximately US$800 million.
Representing the oil trading affiliate of a major international oil and gas company in a multiparty arbitration (seated in Stockholm and under the UNCITRAL rules) concerning the component variables of a complex quality bank calculation, including the successful challenge of a party-nominated arbitrator due to conflict of interest.
Advising a state-owned oil company in a pricing dispute valued in excess of US$16 billion under a long-term crude oil supply contract, including the preparation of a request for arbitration for potential proceedings under the LCIA rules.
Representing a consortium of foreign contractors in an ICC conciliation (potentially leading to ICC arbitration proceedings seated in Geneva) against a North African state oil company in relation to the proper construction of a production sharing contract and the impact of changes to tax legislation.
Representing a power purchasing company in an expert determination related to the interpretation of outage planning provisions within the grid code for Northern Ireland.
Representing an independent oil and gas company in Commercial Court proceedings on a dispute arising from misrepresentations made by a party to the agreement.
Representing an energy trading and distribution company in an arbitration related to LPG supplies under the LMAA rules.
Advising a company on a dispute related to obligations under a joint operating agreement concerning an offshore block located in Eastern Africa and the enforceability of any potential arbitration award against its parent company.
Advising European and Asian clients on the impact and application of EU and US sanctions and export controls in relation to activities concerning Burma (Myanmar), Iran, Libya and Syria, including the availability of force majeure.
Memberships and Affiliations
American Bar Association
New York State Bar Association
Energy Bar Association
Associate in the energy disputes practice at an international law firm.
Stagiaire at the Paris office of an international law firm.
Editor-in-Chief of the Journal of International Commercial Law
Education
George Mason University School of Law, J.D., 2010
Calvin College, B.A., 2006
Political Science and Philosophy