Our Website Uses Cookies
We and the third parties that provide content, functionality, or business services on our website may use cookies to collect information about your browsing activities in order to provide you with more relevant content and promotional materials, on and off the website, and help us understand your interests and improve the website.
For more information, please contact us or consult our Privacy Notice.
Your binder contains too many pages, the maximum is 40.
We are unable to add this page to your binder, please try again later.
This page has been added to your binder.
David A. Luttinger Jr.
Partner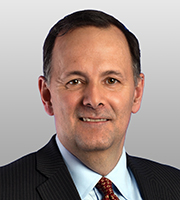 David Luttinger has more than 20 years of experience representing clients in the insurance coverage field, including extensive trial work in judicial and arbitral forums across the country and internationally. His experience in the coverage area includes disputes over insurance for mass torts, environmental liabilities, large-scale property and business interruption losses, and shareholder lawsuits. Mr. Luttinger has represented clients in the energy, chemical, manufacturing, retail, and financial services sectors.
Lead trial attorney in an insurance coverage action in Los Angeles on behalf of Goulds Pumps against Travelers Casualty & Surety Company, an excess insurer. After a 13 day trial, Goulds obtained judgment confirming its right to access $50 million in excess liability coverage. The judgment was affirmed on appeal. Goulds Pumps, Inc. v Travelers Cas. & Sur. Co., No. B255439, 2016 3564244 (Cal.Ct.App., June 22, 2016).
Key member of a trial team in a 2017 bench trial in Los Angeles, California, which resulted in favorable declarations on key coverage issues related to excess insurers' obligations to cover ITT's asbestos-related product liability loss.
Lead attorney in an insurance coverage action in the Western District of Pennsylvania on behalf of an industrial fan manufacturer. The manufacturer was sued by its insurer, which asserted it had no defense or indemnity obligation for a lawsuit alleging damage and business interruption loss due to damage caused by the insured's products. After prevailing on summary judgment that the insurer owed a defense obligation, the case went to trial on the bad faith claims and was settled on mutually agreeable terms.
Lead attorney in a coverage case brought in Baltimore, Maryland for a large international bank under a run-off professional services liability policy in which the bank sought recovery for amounts paid defending against and resolving hundreds of underlying actions. Separate rounds of summary judgment were filed in 2009 and 2010, with the 2009 briefing leading to summary judgment in favor of the bank. In late 2010, on the eve of trial, following extensive briefing and oral argument, the insurers agreed to a settlement on terms favorable to the bank.
Defended an individual at trial in the Southern District of New York against criminal charges of insider trading.
Lead attorney in multiple cases brought in Pennsylvania and California on behalf of an energy company that faced more than a hundred suits alleging damages arising from MtBE and MtBE-containing gasoline. The case in Pennsylvania led to a judgment that the Court of Appeals for the Third Circuit affirmed, which established the insured's right to $50 million for the defense and settlement of scores of suits. In the California case, after favorable rulings against two sets of insurers were obtained, the insurers agreed to settle.
Co-lead attorney for an electric utility facing thousands of asbestos-related lawsuits. After a bench trial, the Circuit Court of Maryland for Washington County entered judgment in favor of the insureds in a coverage action styled Monongahela Power Co., et al. v. Certain Underwriters at Lloyd's London, et al., Case No. 21-C-03-16733-DJ (Circuit Court of Maryland, Washington County). The decision has been affirmed on appeal. TIG Ins. Co. v. Monongahela Power Co., --- A.3d ---, 2014 WL 715453 (Md. Feb. 24, 2014), affirming TIG Ins. Co. v. Monongahela Power Co., 209 Md. App. 146, 58 A.3d 497 (2012).
Lead attorney in an insurance coverage dispute involving a complete loss of a custom-made reactor that the client was building in the United Arab Emirates. Shortly after filing suit on behalf of the insured, the matter was resolved on terms favorable to the client.
Lead attorney in negotiating a resolution of a political risk insurance claim for a multinational company whose assets were appropriated by Venezuela.
Lead attorney in first-party/business interruption matter in connection with losses arising out of an earthquake and flooding in Japan.
Lead attorney in a first-party/business interruption case on behalf of a major retailer in litigation over losses arising from property damage and business interruption.
New York County District Attorney's Office, Assistant District Attorney, Trial Division
Acritas, Star Lawyer (2017)
The Legal 500 US, Insurance (2016-2017); Dispute Resolution - Product liability, Mass Tort and Class Action - Pharmaceuticals and Medical Devices - Defense (2017)
Chambers USA: America's Leading Lawyers for Business (2008-2020)
Bar Admissions
New York
District of Columbia
New Jersey
U.S. Supreme Court
U.S. Court of Appeals for the Second Circuit
U.S. Court of Appeals for the Third Circuit
U.S. District Court, Southern District of New York
U.S. District Court, Eastern District of New York
U.S. District Court, District of New Jersey