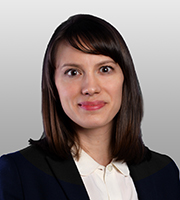 As a New York-based associate, Cléa Liquard has played significant roles in commercial litigation, insurance recovery and appellate matters. With responsibilities ranging from negotiation to mediation to drafting of dispositive motions and briefs, Ms. Liquard has developed a sophisticated understanding of state and federal law including experience with insurance law, Indian Gaming Regulatory Act, U.S. Constitutional law, and financial regulations.
In her insurance recovery practice, Ms. Liquard has provided guidance to her clients in diverse industries on the application of various policies including E&O, D&O, CGL, investment management, and multimedia liability and has counseled them to several favorable pre-litigation settlements for high-value, complex claims.
She also has valuable appellate experience both in private practice and as a law clerk on the U.S. Court of Appeals for the Ninth Circuit.