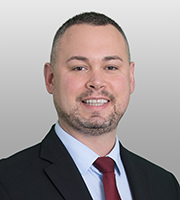 Peter Komorowski advises clients on a range of significant national security, cybersecurity, and white collar matters. Mr. Komorowski joined the firm after serving as the Chief of Counterterrorism Intelligence Operations for Afghanistan, Pakistan, and Asia with the Defense Intelligence Agency, where he led a team of intelligence officers supporting 24/7 operations worldwide. He has served at the National Security Agency, as well as in Afghanistan, Iraq, and Pakistan. Prior to the Defense Intelligence Agency, he served in the United States Army.
Drawing on his government experience, Mr. Komorowski represents clients worldwide seeking national security regulatory advice, including approval of foreign investments before the Committee on Foreign Investment in the United States ("CFIUS"). He advises technology clients on national security and law enforcement-related compliance issues, including matters involving electronic surveillance and data privacy. For cybersecurity matters, Mr. Komorowski counsels clients on responding to cyber-based attacks on their networks, assessing their security controls and practices for the protection of data, and complying with federal and state regulatory requirements.
In his white collar defense and investigations practice, Mr. Komorowski represents clients in Foreign Corrupt Practices Act ("FCPA") and corruption-related internal investigations and risk assessments, and responds to and defends against government investigations.
Mr. Komorowski maintains an active pro bono practice focused on veterans law, issues affecting the LGBT community, and the rule of law in foreign countries.