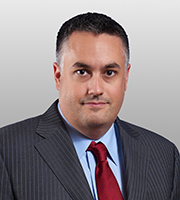 Mike Kennedy is a litigator with substantial trial experience, representing clients before federal district and appellate courts.
In particular, Mr. Kennedy has extensive experience representing pioneer pharmaceutical companies in patent litigation. Over the past several years, he has represented such companies in over a dozen Hatch-Waxman actions in therapeutic areas ranging from oncology to sleep medicine, at all stages of litigation including trial and appeal. He has also participated in district court and Patent Office proceedings involving biologic drug patents.
Mr. Kennedy also has substantial commercial litigation experience in the areas of breach of contract, license disputes, and business torts claims. He also maintains an active pro bono practice.
Mr. Kennedy is from Arlington, Virginia. He joined Covington in 2008 from another leading national law firm, and was elected to Covington's partnership in 2013.