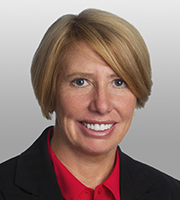 Lee Kelley is of counsel in the Washington office and a member of the Tax Practice Group. Her practice focuses on corporate tax matters, including structural and transactional planning.
Ms. Kelley recently served as Deputy Tax Legislative Counsel at the U.S. Department of the Treasury. While at the Treasury, she participated in the development of legislation, regulations and administrative guidance concerning corporations and their shareholders, partnerships, exempt organizations, and tax credits, including guidance related to recent cases.
She also previously served as the Deputy Associate Chief Counsel for Corporate Taxation at the Internal Revenue Service where she oversaw the issuance of taxpayer specific guidance and participated in the development of the government's positions in matters of tax controversy.
Prior to her most recent position at the Treasury Department, Ms. Kelley was associated with the national offices of two public accounting firms.
Ms. Kelley is a frequent public speaker on matters relating to taxation.