Your binder contains too many pages, the maximum is 40.
We are unable to add this page to your binder, please try again later.
This page has been added to your binder.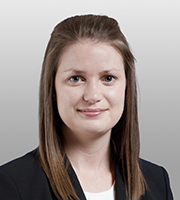 Catherine Karia represents a variety of clients in complex international disputes.
Ms. Karia's practice covers a broad range of dispute resolution procedures, including English litigation and international commercial arbitration. She has particular expertise representing clients in the energy and natural resources sector.
Representing a leading video on demand company in Chancery Court proceedings concerning a dispute over access to software for delivering movies digitally.
Representing a European petrochemicals company in Commercial Court proceedings in connection with a professional negligence claim against the company's former insurance broker.
Representing a European oil and gas major in an ICC arbitration relating to African assets.
Advising a consortium of foreign contractors in a dispute against a North African state-owned oil company regarding numerous claims under a French language production sharing agreement.
Advising a European oil and gas major in a dispute with its co-venturer under a farm-out agreement and joint operating agreement concerning the exploration of hydrocarbons in Latin America.
Advising a renewable energy company on the merits of potential debt claims arising under a joint operating agreement and services agreement concerning the construction of a coal-to-liquid hydrocarbons plant in Mozambique.
Assisting a state-owned oil company in a pricing dispute regarding a long-term crude oil supply contract with a sum in dispute in excess of US$16 billion.
Advising an independent oil and gas company on issues of direct and consequential losses arising from misrepresentations made by a party to a services agreement.
Memberships and Affiliations
LCIA Young International Arbitration Group
Young ICCA
Junior Lawyers Division of the Law Society of England and Wales
Associate in the energy disputes practice at an international law firm.