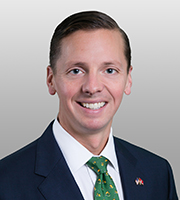 Chase Johnson is a trial lawyer who represents clients in high-stakes civil cases. Mr. Johnson has extensive courtroom and advocacy experience. His wide-ranging civil practice involves commercial litigation, government contracts, and products liability matters.
In addition to his civil practice, Mr. Johnson has a robust pro bono practice, focusing on indigent criminal defense and veterans' issues. Most recently, Mr. Johnson successfully achieved a not guilty verdict for pro bono client charged with first-degree murder. He has also represented veterans in appeals to the Court of Appeals for Veterans Claims.
Before joining Covington, Mr. Johnson served in the United States Marine Corps as a judge advocate and deployed to Afghanistan in support of Operation Enduring Freedom. While on active duty he prosecuted over a dozen contested jury trials. Major Johnson currently serves as a judge in the Navy-Marine Corps Trial Judiciary.