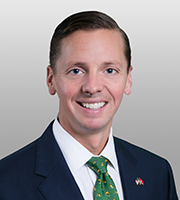 As a trial lawyer, Chase Johnson represents clients in high-stakes cases. Mr. Johnson has extensive courtroom and advocacy experience: in the past year alone, he has first-chaired over eight weeks of jury trials in federal and state court. His cross-disciplinary practice includes commercial litigation, the False Claims Act, government contracts, and products liability matters.
Mr. Johnson maintains a robust pro bono practice, focusing on indigent criminal defense and military veterans. Most recently, Mr. Johnson successfully achieved a not-guilty verdict for a client charged with first-degree murder. He has also represents veterans in their appeals to the Court of Appeals for Veterans Claims.
Before joining Covington, Mr. Johnson served in the United States Marine Corps as a judge advocate and deployed to Afghanistan in support of Operation Enduring Freedom. While on active duty he prosecuted over a dozen contested jury trials. Major Johnson currently serves as a Military Judge in the Navy-Marine Corps Trial Judiciary and presides over courts-martials.