Our Website Uses Cookies
We and the third parties that provide content, functionality, or business services on our website may use cookies to collect information about your browsing activities in order to provide you with more relevant content and promotional materials, on and off the website, and help us understand your interests and improve the website.
For more information, please contact us or consult our Privacy Notice.
Your binder contains too many pages, the maximum is 40.
We are unable to add this page to your binder, please try again later.
This page has been added to your binder.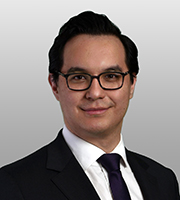 Phillip Hill is an attorney with deep experience in media, entertainment, sports, and technology. Mr. Hill's practice focuses on litigation, counseling, and transactions in the fields of copyright, trademark, trade secret, right of publicity, art, drone, and cyber law. Mr. Hill represents and advises clients in a wide range of industries, including music, media and entertainment, technology, video games, sports, live event production, film/television, theater, fashion, print publishing, visual art, consumer products, financial services, private equity firms, real estate, and healthcare. He is an active member of the American Bar Association, where he is the Co-Chair of the Copyright Litigation Committee and Chair of the Music Subcommittee.
Mr. Hill also represents and advises non-profit corporations and individuals in a variety of pro bono matters, including songwriters and recording artists, music venues, orchestras, museums, comic book artists, middle-income micro-entrepreneurs, asylum applicants, and civil rights organizations. He also is active in educational efforts in copyright, media, and technology law, including courses on "The Law of Music" at the New England Conservatory and Carnegie Hall, and Harvard Law School's "CopyrightX" course.
Select Copyright Litigations
Representing all major record labels and music publishers in high-stakes copyright litigation against ISPs Charter Communications and Bright House Networks.
Represented leading online music service in various copyright infringement lawsuits concerning music streaming, mechanical licensing, and pre-1972 sound recordings.
Won judgment after trial in Chinese copyright litigation on behalf of iconic guitar pedal and audio electronics manufacturer Electro-Harmonix in its lawsuit against a Chinese guitar pedal manufacturer and an international distributor. Secured damages, injunctions, fees, and costs for infringement of guitar pedal signal processing code. New Sensor Corp. d/b/a Electro-Harmonix v. Shenzhen Mooer Instruments & Warwick Music Instrument Trading (Shanghai) Co., (2016) Yue 03 Min Chu No. 2445.
Represented leading music technology company in mechanical rate-setting proceeding before the Copyright Royalty Board to determine rates for interactive streaming services.
Won motion to dismiss and affirmance on appeal in precedent-setting copyright litigation concerning Nike's famous "Jumpman" logo. Rentmeester v. Nike, Inc. (D. Or., 9th Cir., S. Ct.).
Defended 8 Legged Productions, producer of the Broadway musical Spider-Man: Turn Off the Dark against copyright infringement, breach of contract, and related claims brought by the show's former director and co-book writer, Julie Taymor. Julie Taymor, et al. v. 8 Legged Productions, LLC, et al. (S.D.N.Y.).
Represented Gold and Silver Age comic creator Al Plastino in action to recover original Superman artwork.

Artwork was successfully restored to the John F. Kennedy Presidential Library & Museum. In re Plastino (N.Y. Sup.).
Defended patent law firm against scientific publishers alleging that law firm infringed copyrights by making copies of journal articles as part of disclosure to U.S. Patent and Trademark Office in patent prosecution.
Represented Cengage, a leading academic publisher in connection with copyright issues in its prearranged Chapter 11 bankruptcy. In re Cengage Learning, Inc. (Bankr. E.D.N.Y.).
Select Trademark Litigations
Defended AT&T in trademark infringement lawsuit brought by Citigroup related to loyalty program. After defeating a motion for preliminary injunction, Citigroup voluntarily dismissed its complaint with prejudice. Citigroup Inc. v. AT&T Servs. Inc., et al. (S.D.N.Y.).
Represented NYC Pride, the non-profit organization that produces New York City's annual slate of official LGBT pride events, in trademark and unfair competition litigation regarding NYC PRIDE mark. Argued and won preliminary injunction. Heritage of Pride, Inc. v. Matinee NYC Inc., et al. (S.D.N.Y.).
Defended LifeProof, maker of protective cases for electronic devices, in trademark litigation regarding LIFEPROOF mark. Won preliminary injunction, two summary judgment motions, and appeal to the 9th Circuit. TreeFrog Developments, Inc. v. Seal Shield, LLC, et al. (S.D. Cal., 9th Cir.).
Represented the Travelers Indemnity Company in litigation alleging that defendants' use of umbrella logos in connection with insurance and financial services infringed and diluted Travelers' famous red umbrella trademarks. The Travelers Co. v. Legal & General Group Plc, et al. (D. Conn.):
Defended leading consumer electronics and technology company in opposition proceedings, including victory after trial at the Trademark Trial and Appeal Board and successful defense on appeal to the Eastern District of Virginia.
Represented CEB, a member-based advisory company, against trademark and unfair competition claims concerning CEB and CEB-formative marks. The Regents of the University of California v. The Corporate Executive Board (N.D. Cal.).
Select Trade Secret Litigations
Defended Virgin Cruises in trade secret and idea misappropriation lawsuit seeking damages of $300 million. After completion of discovery and filing of summary judgment briefs, case settled on confidential terms. Veitch et al. v. Virgin Management USA, Inc. (S.D. Fla.).
Represented TriZetto and Cognizant Technology Solutions Corp. in federal and state trade secret, unfair competition, breach of contract, and copyright litigation concerning healthcare software and related software consulting services. Won precedent-setting decisions under Defend Trade Secrets Act.

Syntel Sterling Best Shores Mauritius Ltd. v. TriZetto Grp., Inc. (S.D.N.Y.)
Represented aviation investment manager Apollo Aviation Group in a lawsuit against 100x involving copyright, Computer Fraud and Abuse Act, unfair competition, and federal and state trade secret misappropriation claims. Apollo Aviation Group, LLC et al. v. 100x, Inc. et al. (S.D. Fla.).
Select Transactional, Counseling, Clearance, and Non-Litigation Matters
Advised Blackstone in its acquisition of SESAC Holdings, a leading music rights organization, from Rizvi Traverse Management.
Advised J.K. Rowling in copyright, trademark, and cyber law matters regarding the Harry Potter series and related properties.
Advised Carnegie Hall on various music copyright and licensing matters.
Advised NYC Pride on historic inaugural broadcast of annual NYC Pride March.
Advised leading telecommunication service provider on revisions to company-wide DMCA policies.
Advised leading providers of online music services in connection with copyright class actions related to mechanical licensing and pre-1972 sound recordings.
Advised leading private equity firms, sports leagues and teams, computer companies, music venues, video game producers, live event producers, television production companies, performers, property managers, and consumer products companies on issues related to music.
Counseled international entertainment creator, producer, and distributor on copyright and music issues involving its prime time and serial drama brands.
Advised on trademark prosecutions for clients in telecommunications, sports, event production, social media, television production, toy manufacturing, aerospace engineering, and consumer products industries.
Advised various technology companies on issues relating to drones, artificial intelligence, and machine learning.
Advised on gTLD registration, monitoring, and enforcement.
Memberships and Affiliations
American Bar Association, Intellectual Property Law Section

Co-Chair, Copyright Litigation Committee
Chair, Music Subcommittee

Music, Sound Recordings, and Performing Artists Committee
Visual Arts, Dramatic Works, and Motion Pictures Committee
Trade Secrets and Interference with Contracts Committee
National Football League, Legal Extern (2012)
Legal Economics LLC, Researcher (2011)
Marvel Entertainment, Summer Associate (2011)
Axcess Broadcast Services, Vice President of Production (2007-2009)
Patriot Recording Studio, House Engineer (2007-2008)
Premium Recording Service, House Engineer (2006-2007)
Texas Treefort Recording Studio, House Engineer (2004-2007)
Pro Bono Service Award (2013-2019)
New York State Bar Association, Empire State Counsel Award (2014)
Immigration Equality Safe Haven Award (2014)
Education
Harvard Law School, J.D., 2013
cum laude
Berkman Center for Internet and Society, Student Fellow
Recording Artists Project, Director
Dean's Scholar - Copyright
Dean's Scholar - Music & Digital Media
Dean's Scholar - Legislation & Regulation
Dean's Scholar - Evidence
Dean's Scholar - Patent
Summer Academic Writing Fellow (2011)
Board of Student Advisors
Submissions Manager, Article Director, Harvard Journal of Law & Technology
Committee on Sports & Entertainment Law, Entertainment Chair
Teaching fellow for Profs. Hanson, Fisher and Nesson
The University of Texas at Austin, B.A., 2006
Honors and High Honors
Music & Plan II Liberal Arts
Lee & Joe Jamail Endowed Presidential Scholar
August Kunz Academic Scholar
George H. Mitchell Undergraduate Research Award for Demystifying Studio Magic