Matthew Hegreness
Special Counsel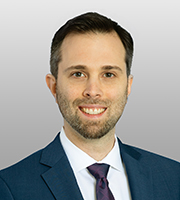 A lawyer with a Ph.D. in biology, Matthew Hegreness provides regulatory counsel to the firm's food, dietary supplement, and pharmaceutical clients as they develop new products, ingredients, treatments, and claims. He also advises on regulatory issues that arise in legal proceedings and corporate transactions. When advocating for clients before the U.S. FDA and other agencies, Dr. Hegreness draws on his skills in law and science to reach the range of relevant professionals—lawyers as well as scientists and medical doctors.
Dr. Hegreness has deep expertise in the following areas:
The development, approval, and marketing of medical products;
The designation of drugs and biologics for expedited approval (Breakthrough, Fast Track, Accelerated Approval, and Regenerative Medicine Advanced Therapy Designation);
Strategies for obtaining regulatory exclusivities for drugs and biologics (including "orphan drug" and Hatch-Waxman exclusivities);
Advertising, promotion, and scientific exchange;
The prevention of healthcare fraud and abuse;
The appropriate phrasing and substantiation of labeling and advertising claims for food and dietary supplements;
The safety and status of ingredients for food and dietary supplements, including whether food ingredients are generally recognized as safe (GRAS) and when a new dietary ingredient (NDI) requires notification to FDA;
Regulatory proceedings before the Federal Trade Commission (FTC) and the National Advertising Division of the Council of Better Business Bureaus (NAD);
Citizen Petitions concerning FDA action and inaction as well as Comments on guidance and regulations;
Appeals to FDA and Formal Dispute Resolution, including on the release of clinical holds; and
The design and conduct of clinical trials.
Dr. Hegreness is a graduate of Yale Law School, where he served as an editor-in-chief of the Yale Journal of Health Policy, Law, and Ethics, a senior editor of the Yale Law Journal, and a member of the Yale Supreme Court Advocacy Clinic. Before becoming a lawyer, Dr. Hegreness worked at Harvard Medical School and received his Ph.D. from Harvard University for research on antibiotic resistance and the evolution of cancer. He has published legal and scientific papers in the Yale Law Journal, Arizona Law Review, Science, Nature Genetics, Nature Reviews Microbiology, and the Proceedings of the National Academy of Sciences.