Simon Goodworth
Senior Counsel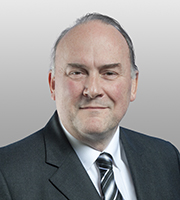 Simon Goodworth is senior counsel in the firm's London office. He is an English solicitor working within the firm's corporate practice. Mr. Goodworth was a partner in a leading City of London law firm between 1986 and 2002, when he joined Covington.
Mr. Goodworth's practice and experience are wide ranging, including mergers and acquisitions (both public and private), funds and investments (including fund formation, primary investments, secondary transactions (directs and funds) and co-investments), private equity, securities work and finance. Much of his practice is, and has for many years been, international in nature, with most transactions upon which he advises having significant cross-border dimension.
With respect to funds and investments, he advises both fund sponsors and major investors, and has particular experience in relation to the US, European, Asian and Australian markets, and is involved in developing the practice within other markets in Africa and Latin America. Mr. Goodworth's expertise also includes advising publicly listed and private companies, and financial institutions, in a broad range of transactional matters.
Mr. Goodworth is closely involved (working with the firm's regulatory specialists) in monitoring developments in the regulation of the financial services sector within the EU and the US, particularly with respect to the private equity industry.