Our Website Uses Cookies
We and the third parties that provide content, functionality, or business services on our website may use cookies to collect information about your browsing activities in order to provide you with more relevant content and promotional materials, on and off the website, and help us understand your interests and improve the website.
For more information, please contact us or consult our Privacy Notice.
Your binder contains too many pages, the maximum is 40.
We are unable to add this page to your binder, please try again later.
This page has been added to your binder.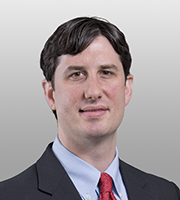 Justin Ganderson is Special Counsel in the firm's Washington, DC office and a member of the Government Contracts Practice Group. Mr. Ganderson focuses his practice in the areas of claims and disputes resolution, internal investigations, public and private partnerships, utility privatizations, and general federal government contract counseling.
Mr. Ganderson has extensive experience in preparing and crafting requests for equitable adjustments and Contract Disputes Act (CDA) claims, and resolving disputes with government agencies prior to the commencement of litigation.
He also regularly litigates government contract related disputes (including prime / subcontractor disputes) before Agency Boards of Contract Appeals, the U.S. Court of Federal Claims, U.S. District Courts and the American Arbitration Association. Through his claims and litigation experience, Mr. Ganderson has gained considerable knowledge about Major Defense Acquisition Programs.
On behalf of clients, Mr. Ganderson has conducted large and extensive internal investigations analyzing various allegations (including improper time charging and allocation issues, performance issues, Anti-Kickback Act (AKA) violations and False Claims Act (FCA) violations), and in response to Inspector General (IG) Subpoenas, Federal Grand Jury Subpoenas, Civil Investigative Demands and whistleblower claims. In addition, Mr. Ganderson has negotiated favorable settlements with the U.S. Department of Justice (DOJ) stemming from lawsuits brought under the FCA and AKA.
Mr. Ganderson also regularly counsels contractors in pursuing and performing contracts with U.S. government agencies and contractors at other tiers, and counsels contractors on the interpretation, applicability, and compliance with regulations and statutes related to federal government procurements and contracts. He has extensive experience in drafting and/or negotiating a variety of agreements, including contracts with the U.S. government agencies (e.g., contracts for supplies and services, construction contracts, utility privatization contracts and utility areawide agreements) and a variety of subcontracts.
Finally, Mr. Ganderson frequently writes and presents on government contracts related topics. In addition to publishing articles on a variety of timely subjects, Mr. Ganderson has been a Guest Lecturer at the George Washington University School of Law and the Catholic University of America (Masters in Management Program), and is a member of the faculty for the Public Contracting Institute. Mr. Ganderson also has been quoted by various news publications like BNA Federal Contracts Report, Law360 and National Defense Magazine, and has appeared on Federal News Radio.
Memberships and Affiliations
American Bar Association (ABA), Public Contract Law Section (PCLS), Council Member
ABA PCLS, Co-Chair of the Contract Claims and Dispute Resolution Committee
ABA PCLS, Co-Chair of the Privatization, Outsourcing and Finance Transactions Committee
ABA PCLS, Vice Chair of the Acquisition Reform and Emerging Issues Committee
Board of Contract Appeals Bar Association