Gerónimo Gutiérrez Fernández
Gerónimo Gutiérrez Fernández
Senior Advisor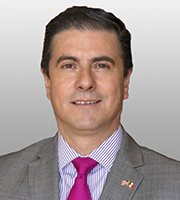 Gerónimo Gutiérrez Fernández, is a senior advisor at the firm. He provides strategic advice to businesses and governments on political risk, public affairs, communications, and business development. Mr. Gutiérrez, a non-lawyer, has over 20 years of experience in senior government positions under five Mexican presidents in the areas of finance, trade, national security and diplomacy. Most recently, he served as Mexico's Ambassador to the United States. In that position, he played a prominent role in the negotiation of the United States, Mexico and Canada Agreement (USMCA).
He previously served as Managing Director of the North American Development Bank (NADB), Deputy Secretary for Governance and Homeland Security, member of the National Security Council's Executive Committee and, in the Foreign Ministry, as Under Secretary for Latin America and the Caribbean and Under Secretary for North America. In the latter capacity, he coordinated day-to-day trilateral and bilateral affairs with the United States and Canada. He also led negotiations for the creation of the Security and Prosperity Partnership for North America (SPP) – prelude to the present day North American Leaders Summit.
Mr. Gutiérrez has also held other Mexican federal government positions in the Ministries of Economy and Treasury, the Office of the President, and Banobras.
In addition to his work with Covington, Mr. Gutiérrez is the Managing Partner of BEEL Infrastructure, a specialized advisory and asset management firm focused on the infrastructure sector in Latin America. He serves in the Board of Directors of the United States – Mexico Business Association (AEM) and the Advisory Board of the Woodrow Wilson Center's Mexico Institute.
Mr. Gutiérrez holds a B.A. degree in Economics from the Instituto Tecnológico Autónomo de México (ITAM), where he also completed the coursework for a B.A. degree in Political Science, and a Master's Degree in Public Administration from Harvard's John F. Kennedy School of Government, for which he received a Fulbright-García Robles Scholarship.
He has contributed with opinion articles for several newspapers and magazines in Mexico and the United States, and speaks regularly on Mexico's political landscape and United States - Mexico affairs at conferences and other venues.