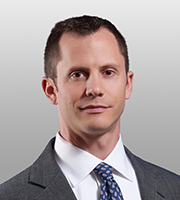 David Garr is a litigator with broad experience representing clients in complex patent trials spanning U.S. District Courts, post-issuance proceedings at the Patent Trial and Appeal Board, and Section 337 investigations before the U.S. International Trade Commission.
With a background in electrical engineering and digital telecommunications, Mr. Garr specializes in cases involving the most sophisticated and demanding technical issues. He has litigated patent disputes on electronic hardware, semiconductors, sensors and displays, cellular and WiFi protocols, software, pharmaceuticals, and mechanical components. He also advises clients on intellectual property strategy and development.
Before becoming a lawyer, Mr. Garr worked as a program manager in the information technology industry.