Your binder contains too many pages, the maximum is 40.
We are unable to add this page to your binder, please try again later.
This page has been added to your binder.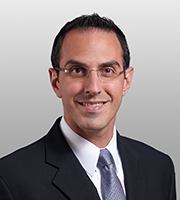 Scott Freling, recognized by Law360 as a "Rising Star" in Government Contracts, represents civilian and defense contractors at all stages of the procurement process and in their dealings with federal, state, and local government customers. Mr. Freling assists clients in a range of industries, including defense and aerospace, information technology and software, government services, life sciences, energy, and private equity.
Mr. Freling maintains an active transactional practice, regularly serving as government contracts counsel to financial and strategic buyers during M&A transactions involving a contractor or grantee. He has deep experience leading due diligence reviews, negotiating transaction documents, and assisting with integration activities.
In addition, Mr. Freling routinely counsels clients on compliance matters and risk mitigation strategies, including the process for obtaining and maintaining SAFETY Act liability protection from the U.S. Department of Homeland Security for anti-terrorism technologies.
Honeywell's sale of its government services business, Honeywell Technology Solutions, Inc. Served as government contracts counsel to Honeywell during its 2016 sale of HTSI to KBR.
Veritas Capital's investment in multiple contractors. Serving as government contracts counsel to private equity firm Veritas Capital during its acquisition of Harris Corporation's government IT services business (now known as Peraton) for $690 million. Also represented Veritas Capital during its acquisitions of SolAero Technologies Corp. and Alion Science and Technology.
Lindsay Goldberg's investment in multiple contractors. Represented private equity firm Lindsay Goldberg and its former portfolio company PAE as government contracts counsel in six M&A transactions, including Lindsay Goldberg's 2016 sale of PAE to Platinum Equity. Represented Lindsay Goldberg in its 2015 investment in ECS Federal.
Bid protests involving state and federal procurements. Represented The Goodyear Tire & Rubber Company during its successful challenge to North Carolina's award of a statewide tire contract. Represented several technology resellers in bid protest litigation at the GAO and Court of Federal Claims.
Achieving liability protection for anti-terrorism technologies. Represented several sports and entertainment venues during their successful efforts to obtain SAFETY Act protection for their respective security programs. Represented two professional sports leagues in renewing SAFETY Act protection for their respective league-wide venue security standards, training, and audit programs.
Complex claims and termination matters. Represented a large construction company during its successful resolution of multiple contract claims and terminations related to construction work in Afghanistan for the U.S. Army Corps of Engineers. Represented a large software reseller during the settlement of a multi-million dollar Contract Disputes Act claim against the U.S. Department of Defense.
Contractor investigations and disclosures. Conducted multiple internal investigations for an IT services contractor, addressing a variety of issues including alleged self-dealing by a senior executive and unauthorized access to information systems. Assisted a global health organization with over fifteen Inspector General disclosures of suspected wrongdoing.
Compliance counseling. Counseled a large supplier of automotive products on domestic sourcing restrictions applicable to contracts with the U.S. Department of Defense and original equipment manufacturers.
Protection of IP rights. Counseled a technology and analytics company during its formation of a government contracts business, addressing such matters as strategies for protecting preexisting intellectual property.
Represented a domestic violence shelter during a series of audits and investigations by its funding agency and the D.C. Office of Inspector General.
Represented a World War II veteran before the U.S. Court of Appeals for Veterans Claims and the Board of Veterans' Appeals to obtain compensation for injuries sustained during his active-duty service.
Represented an indigent defendant in a criminal matter in the D.C. Superior Court.
Memberships and Affiliations
American Bar Association, Section of Public Contract Law
National Defense Industrial Association
Law360, Government Contracts "Rising Star" (2015)
Legal 500 US, Government Contracts (2015-2017)
Washington DC Super Lawyers, Government Contracts "Rising Star" (2014-2017)