Herbert L. Fenster
Senior Of Counsel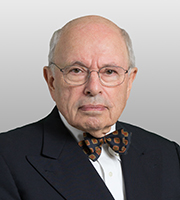 Herbert Fenster focuses his practice on litigation, particularly, against the United States and on the subjects of procurement, environmental, administrative and tort law. He has extensive experience in the negotiation, interpretation, and litigation of contracts for major weapons systems, as well as the procurement of research and development.
Mr. Fenster has had key involvement in critical legal and regulatory issues arising in the award and termination of major weapons programs. He has lectured and testified multiple times on the subject of government finance and accounting from both industry and government perspectives and has also had major involvement in contracting for "Stability Operations and Expeditionary Support" starting in the early years of the Vietnam War.
Mr. Fenster is an authority in litigation under a number of federal statutes including the Administrative Procedure Act, the Federal Advisory Committee Act, the Foreign Sovereign Immunities Act and the Freedom of Information Act. Mr. Fenster is the General Counsel of the National Defense University Foundation.
Mr. Fenster is an author and lecturer on government and administrative law subjects.