Our Website Uses Cookies
We and the third parties that provide content, functionality, or business services on our website may use cookies to collect information about your browsing activities in order to provide you with more relevant content and promotional materials, on and off the website, and help us understand your interests and improve the website.
For more information, please contact us or consult our Privacy Notice.
Your binder contains too many pages, the maximum is 40.
We are unable to add this page to your binder, please try again later.
This page has been added to your binder.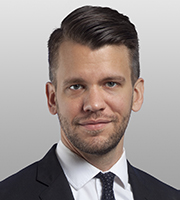 Ethan Forrest helps clients solve novel and complex intellectual property, privacy, and technology problems, whether by litigation, counseling, or negotiation. He has a particular focus on copyright, trademark, and Internet issues. He also assists news and entertainment clients with First Amendment and media law matters, including open records and defamation laws.
Mr. Forrest has litigated intellectual property and commercial cases in federal and state court, and has experience in trials, appeals, and government investigations. He has also published articles on copyright law, online privacy, and legal issues in the arts.
Represent a major technology company in privacy class action concerning digital music.
Trial counsel for Deere in one-week bench trial enforcing rights in green and yellow color trademark on agricultural equipment, resulting in judgment for Deere on both infringement and dilution claims and entry of injunction.The ruling was recognized by Law360 as one of the "Top 10 Trademark Rulings" of 2017.
Advises numerous technology companies, large and small, on innovative privacy and copyright issues.
Trial counsel on team that obtained a complete defense victory for a McKesson Corporation subsidiary against a trade secrets plaintiff seeking damages of nearly half a billion dollars.
Trial counsel in an insurance coverage trial on behalf of major corporation that resulted in a highly favorable ruling and ultimate resolution of coverage and bad faith claims.
Advised a leading social media company on domain name and trademark issues.
Represented a real estate development firm in an SEC investigation.
Represent Reveal from the Center for Investigative Reporting and its reporters in a libel lawsuit concerning Reveal's 18-month investigation into the alleged misuse of U.S. and foreign aid funding to farmers in Malawi, Africa.
Represented a mentally ill, developmentally disabled California inmate in a 9th Circuit appeal challenging the inmate's treatment while incarcerated.
Represent activists in challenging a U.S. Border Patrol checkpoint on First Amendment grounds.
Represent various nonprofits in copyright and trademark matters.
Advised a global non-profit on privacy issues in developing countries.
Stanford Center for Internet and Society, Non-Resident Fellow (2012-2014)
BlurryEdge Strategies, Associate (2012)
Stanford Center for Internet and Society, Student Fellow (2009-2012)
Prof. John Henry Merryman, Research and Teaching Assistant, Art Law and Cultural Heritage Law (2010-2011)
AmeriCorps*VISTA (2007-2009)
Burton Award for Distinguished Legal Writing (2015)
Gerald Gunther Prizes in Torts and Criminal Law
Education
Stanford Law School, J.D., 2012
Stanford Technology Law Review, Managing Editor of Production
Stanford Cyberlaw/Fair Use Clinic
Stanford Center for Internet and Society (Student Fellow, Non-Resident Fellow)
College of William and Mary, B.A., 2007
summa cum laude
Phi Beta Kappa
Judicial Clerkship
Hon. Samuel Conti, U.S. District Court, Northern District of California, 2013 - 2014