Our Website Uses Cookies
We and the third parties that provide content, functionality, or business services on our website may use cookies to collect information about your browsing activities in order to provide you with more relevant content and promotional materials, on and off the website, and help us understand your interests and improve the website.
For more information, please contact us or consult our Privacy Notice.
Your binder contains too many pages, the maximum is 40.
We are unable to add this page to your binder, please try again later.
This page has been added to your binder.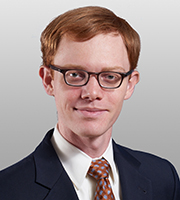 Tyler Evans has experience working closely with clients to resolve issues arising from their participation in government contracting.
Mr. Evans's practice covers multiple subject-matter areas, including contract negotiations, flow-down requirements, schedule contracts, small business issues, sourcing restrictions, compliance, cost disputes, and mergers and acquisitions. He has advised companies working in a broad range of industries, including life sciences, defense, information technology, energy, and construction.
Public Health Contracting
Successfully assisted multiple clients in contract negotiations involving work to be performed for the U.S. Departments of Health and Human Services, Veterans Affairs, and Defense in connection with significant threats to public health, including Ebola and influenza.
Comprehensive Assistance in Transactional Work Involving Government Contracts
Advised a major pharmaceutical company in the sale of multiple businesses involving major government contracts on issues relating to novation, subcontracting, secondment, intellectual property, and government reimbursement of costs.
Size Protest Complexities
Successfully represented a defense contractor in a size protest before the U.S. Small Business Administration involving numerous briefings on principles of affiliation with respect to complex corporate structures and relationships.
Corrective Action
Secured multiple instances of corrective action after challenging faulty agency technical evaluations and cost realism analyses—as well as noncompliance with applicable regulations—under various procurements.

Other Representative Matters
Advised multiple Federal Supply Schedule contractors on establishing internal compliance policies and procedures.
Advised a major pharmaceutical company on the classification of a product as a drug or a device in connection with pricing limitations established by the Veterans Health Care Act of 1992.
Represented a major pharmaceutical company in litigation relating to prescription drug purchases from the Federal Supply Schedule.
Represented service contractor in a subcontract dispute with small business concern involving work allocation under a contract with the U.S. Food and Drug Administration.
Advised multiple government contractors and grant recipients on issues relating to cost and price, including allowability of bid and proposal costs, allowability of costs incurred in connection with size determinations, establishment of indirect cost rates, price negotiation requirements relating to sole-source subawards involving commercial items, paid-cost invoicing, and requirements relating to certified cost or pricing data.
Advised multiple government contractors on intellectual property issues relating to government contracting, including subject invention reporting, domestic manufacturing preferences, limited rights data, and the relationship between background and foreground intellectual property rights.
Advised multiple government contractors on drafting, negotiating, and complying with small business subcontracting plans established under contracts with various federal agencies.
Assisted multiple government contractors with small business affiliation analyses, as well as assessments of various forms of small business set-asides and acquisitions under the 8(a) Business Development Program.
Advised multiple government contractors on domestic sourcing restrictions under federal and state grants, contracts, and leases.
Advised a government contractor on multiple solicitations issued by the U.S. Department of Defense involving energy generation systems using photovoltaic devices.
Assisted multiple government contractors with establishing internal compliance policies relating to gift restrictions and limitations on promotional activities.
Provided public policy and regulatory advice to a participant in the AbilityOne procurement program.
Assisted global nonprofit coalition on pro bono basis with establishing internal policies and standardized subagreements under grants and cooperative agreements with the U.S. Agency for International Development to establish compliance with new Uniform Administrative Requirements.
Assisted nonprofit community organization in resolving contract disputes with the Government of the District of Columbia.
Assisted nonprofit public policy organization on pro bono basis in addressing issues relating to the right to counsel in plea negotiations.
Advised pass-through entity on issuing subagreements under grant with the U.S. Agency for International Development.
Represented a public interest group in a payment dispute with a local government.