Jon-Michael Dougherty
Associate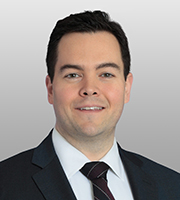 Jon Dougherty advises clients on complex, high-stakes litigation in state and federal courts and in civil and criminal investigations by local, state, and federal governments.
Recently, Mr. Dougherty was the lead associate of a trial team that won total victory against the U.S. Government, as documented in The New York Times, Law360, and elsewhere. Mr. Dougherty participated at every level of the pre-trial and trial phases, including a cross examination of a key witness that heavily influenced the jury's verdict.
In other recent notable matters, Mr. Dougherty was the lead litigation associate on a crisis response team that successfully obtained a temporary restraining order and preliminary injunction prohibiting the State of Arkansas from using illicitly obtained pharmaceuticals in an unprecedented series of executions, in a matter involving intense national and international media scrutiny. Mr. Dougherty was instrumental at every level of Covington's representation, including devising litigation strategy, preparing witness examinations, and drafting legal filings and public statements.