Your binder contains too many pages, the maximum is 40.
We are unable to add this page to your binder, please try again later.
This page has been added to your binder.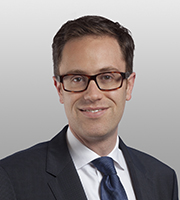 Jeffrey Davidson's trial and appellate practice focuses on high-stakes product liability, antitrust, commercial, and insurance coverage cases. He is currently acting as national coordinating counsel defending a leading automotive component maker against widely publicized product liability claims. He has achieved notable results for his clients. In a recent antitrust matter, he obtained a ruling eliminating a $3.5 billion claim shortly before trial. In another recent matter, he obtained reversal on appeal of an adverse trial ruling, after replacing prior counsel, in a case worth hundreds of millions. In a third recent matter, he obtained a $34 million judgment after a bench trial. Among other industry recognitions, he was one of five U.S. lawyers recognized by Law360 as "Top Attorneys Under 40" in the field of competition law.
In his insurance coverage practice, Mr. Davidson exclusively represents policyholders, and has been involved in matters cumulatively resulting in the recovery of hundreds of millions for losses from third-party breach of fiduciary duty, asbestos, bodily injury, and environmental claims, as well as first-party property damage, business interruption, and crime.
Representing a leading electronics manufacturer in a consolidated set of antitrust and deceptive practices class actions involving liquid crystal displays used in televisions, monitors, and other products. Obtained summary judgment for defendants and dismissal of $3.5 billion in damages claims, in a decision affirmed on appeal.
Representing international airline in defending class-action antitrust litigation. Obtained rare interlocutory appeal regarding filed rate doctrine.
Representing financial services firms in litigation regarding breach of earn-out payment obligations. Obtained $34 million judgment after bench trial.
Representing leading company in pursuing coverage for hundreds of millions in third-party claims arising from use of insured's product.
Representing managed care provider in $100 million insurance recovery action under errors and omissions policies. Successfully obtained reversal on appeal of adverse trial court ruling.
Represented pharmaceutical company in patent litigation, obtaining reversal on appeal of adverse trial verdict after replacing prior counsel.
Represented national sports league in seeking recovery for expenses incurred in underlying multi-district tort litigation.
Represented mining company on open pit mining first-party property and business interruption loss in Indonesia, resulting in a favorable settlement with reinsurers.
Successfully represented policyholder in obtaining insurance recovery for hundreds of millions in asbestos claims.
Successfully represented policyholder in recovering insurance for loss arising out of large rail accident.
Represented multiple policyholders in claims, litigation, and settlement in UK solvent schemes of arrangement.
Represented social media company in patent litigation involving web-accessible databases, obtaining complete victory in the trial court and on appeal.
Advised Microsoft on IP issues in patent monetization transaction with Nokia and Core Wireless involving 2000+ wireless patents.
Represented network backbone provider in patent infringement litigation, obtaining favorable outcome at trial and on appeal.
Represented ExxonMobil in successfully seeking to overturn multi-billion dollar punitive damages award on appeal.
Represented art gallery in class action litigation under the California Resale Royalties Act, obtaining dismissal without payment.
First-chaired trial defense of accused individual client, obtaining judgment of acquittal.
Represented current and former inmates in an appeal to the Third Circuit in a civil matter involving exposure to silica in the prison workplace.
Representing inmate in federal civil rights litigation to redress brutality by prison guards.
Named "Top Attorney Under 40 - Rising Star" in Competition Law by Law360.
Result in antitrust case named "Litigation of the Year - Cartel Defence" by Global Competition Review.
Named 2012, 2013, 2014, and 2016 "Rising Star" by Northern California Super Lawyers.
Legal 500 US, Insurance - Advice to Policyholders (2016)