Our Website Uses Cookies
We and the third parties that provide content, functionality, or business services on our website may use cookies to collect information about your browsing activities in order to provide you with more relevant content and promotional materials, on and off the website, and help us understand your interests and improve the website.
For more information, please contact us or consult our Privacy Notice.
Your binder contains too many pages, the maximum is 40.
We are unable to add this page to your binder, please try again later.
This page has been added to your binder.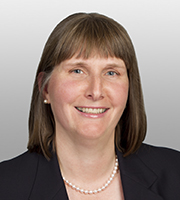 Susan Cassidy advises clients on the complex rules and regulations imposed on government contractors, with a special emphasis on the defense and intelligence sectors. She combines a sophisticated knowledge of the FAR and DFARS with the practical insight gained from senior in-house positions at both dedicated defense and commercial item contractors.
Ms. Cassidy conducts internal investigations for clients on wide array of government contracts, national security compliance, and supply chain issues. She regularly advises on FAR mandatory disclosure obligations and represents clients with regard to these investigations before the agency, DOJ, and the relevant Suspension and Debarring Official. Ms. Cassidy spends considerable time advising on contractor cybersecurity requirements, including assessing contractual requirements and investigating and assisting clients with cyber breach incidents involving government information.
Ms. Cassidy has considerable litigation experience and has represented clients in bid protests, prime-subcontractor disputes, APA cases, and product liability litigation before federal courts, state courts, and administrative agencies.
Prior to joining Covington, Ms. Cassidy served in a number of senior in-house counsel roles for commercial item and defense contractors. Before moving in-house, Ms. Cassidy was a litigation and government contracts partner at a large international law firm in DC.
Lead counsel on multiple internal investigations and disclosures with regard to DoD Cyber Incident Reporting, FAR mandatory disclosure obligations, the False Claims Act, national security requirements, the False Statements Act, the Anti-Kickback Act, the Byrd Amendment, and the Procurement Integrity Act. Representation and favorable resolution of investigations with Agency, OIG, DOJ, and SDO.
Lead counsel conducting internal investigation and successful negotiations with government to clear client with regard to product substitution and MIL-SPEC compliance.
Lead counsel advising defense contractors on responses to cyber incidents, including interface with DoD, law enforcement and forensic consultants.
Numerous matters advising clients on the full spectrum of procurement and compliance obligations including, FAR and DFARS requirements, cybersecurity and supply chain risks, MIL-SPEC qualification and retention of qualification requirements, counterfeit part obligations, sourcing requirements (BAA and TAA), socio-economic requirements, CDA claims, TINA requirements, commercial item determinations, organizational conflicts of interest, cost allowability issues, technical data rights, M&A due diligence and novations, revolving door restrictions, ethics and business conduct issues, and the creation and implementation of government contracts compliance programs.
Lead government contracts counsel advising top-ten defense contractor on a multi-million-dollar prime-subcontractor dispute in connection with a NATO contract.
Lead government contracts counsel representing top 25 defense contractor in a state court appeal of a quarter billion dollar adverse judgment in a prime-subcontractor dispute.
Lead counsel in post award bid protest successfully convincing agency to reopen procurement, allow opportunity for new proposal submissions, and ultimately change its decision and award to our client.
Lead government contracts lawyer advising Fortune 100 financial services corporation on all aspects of federal novation and various state procurement restrictions on the transfer of assets in connection with the company's global reorganization of various business units.
Represent multiple U.S. veterans in various benefits applications.
Successfully represented non-profit agency in grant award negotiations with the Department of State.
Successfully resolved payment dispute for non-profit victim assistance agency against government entity allowing non-profit to continue operating.
Advised non-profit organization on DC procurement rules and requirements for competitive bid.
Successfully convinced Department of Justice to release documents in FOIA litigation that were essential to underlying action against the Department of Housing Urban and Development.
Memberships and Affiliations
Intelligence and National Security Alliance - Legal Working Group
Fellow - American Bar Foundation
American Bar Association - Public Contract Law Section, Division Co-Chair (2018-2019, 2019-2020)
American Bar Association – Public Contract Law Section; Co-Chair - Cybersecurity, Privacy and Data Protection Committee (2014-2018); Vice Chair (2018-2019)
American Bar Association – Public Contract Law Section; Member - Counterfeit Parts Task Force (Acquisition Reform & Emerging Issues Committee)
American University, Washington College of Law, Adjunct Professor of Law (2009-2013, Spring 2015)
National Defense Industrial Association Cyber Division Cyber Legal Regulatory Policy Committee
Northrop Grumman Corporation, Information Systems Sector, Senior Counsel
Motorola, Inc., U.S. Federal Government Markets Division, Senior Counsel
Chambers USA, Government Contracts (2019)
National Law Review, "2018 Go-To Thought Leader," Cybersecurity for Government Contractors (2018)
Legal 500 US, Government Contracts (2016-2017)
Washington DC Super Lawyers, Government Contracts (2015-2019)
Who's Who Legal, Government Contracts USA (2018, 2019)
Law360, Government Contracts Editorial Advisory Board (2014)

Global Supply Chain Toolkit
We help clients navigate the legal, reputational, and regulatory risks that can arise across their global supply chains.
Learn More
Education
American University, Washington College of Law, J.D., 1988
cum laude
American University Law Review, Note and Comment Editor
American University Honor Society
University of Massachusetts Lowell, B.S., 1985