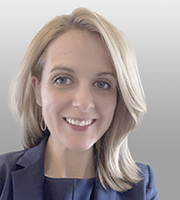 Megan Crowley is a litigator whose practice focuses on complex civil litigation, with particular experience in both commercial and administrative law. She has represented clients in a variety of state and federal courts, at the trial and appellate levels, as well as in arbitration proceedings. Ms. Crowley also has experience assisting clients with efficient resolution of internal and government investigations.
From 2014 to 2016, Ms. Crowley was a trial attorney in the Civil Division of the United States Department of Justice. In this role, she defended Executive Branch agencies in lawsuits challenging the constitutionality of federal statutes and the legality of agency action. Ms. Crowley was lead counsel for the federal government in over a dozen cases brought under the Administrative Procedure Act, the Privacy Act, the Freedom of Information Act, and Title VII. She also litigated claims involving the Foreign Sovereign Immunities Act and the Terrorism Risk Insurance Act, and advised on matters before the Treasury Department's Office of Foreign Assets Control. In recognition of her work, Ms. Crowley received the Civil Division Rookie of the Year Award.
Ms. Crowley is a member of the Bar of New York. District of Columbia bar application is pending; supervised by principals of the firm.