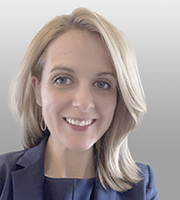 Megan Crowley is a litigator who represents clients in the technology, life sciences, and financial services sectors, with a special expertise in complex commercial disputes and administrative law. She has represented clients at all stages of litigation, from case inception through trial and appeal.
Currently, Ms. Crowley is representing a multinational corporation defending state attorney general actions asserting unfair and deceptive practices claims. She also is the lead associate on a Covington team representing the University of California in challenging the government's rescission of the Deferred Action for Childhood Arrivals (DACA) program, recently obtaining a preliminary injunction requiring that DACA be reinstated.
From 2014 to 2016, Ms. Crowley was a trial attorney in the Civil Division of the United States Department of Justice, where she was lead counsel for the federal government in over a dozen cases brought under the Administrative Procedure Act, the Privacy Act, the Freedom of Information Act, and Title VII. In recognition of her work, Ms. Crowley received the Civil Division Rookie of the Year Award.