Our Website Uses Cookies
We and the third parties that provide content, functionality, or business services on our website may use cookies to collect information about your browsing activities in order to provide you with more relevant content and promotional materials, on and off the website, and help us understand your interests and improve the website.
For more information, please contact us or consult our Privacy Notice.
Your binder contains too many pages, the maximum is 40.
We are unable to add this page to your binder, please try again later.
This page has been added to your binder.
Elizabeth H. Canter
Partner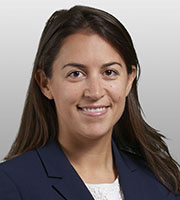 Libbie Canter has experience representing a wide variety of multinational companies on privacy, cyber security, and technology transaction issues, with special expertise in advising those in highly-regulated sectors, including financial services companies and pharmaceutical and medical device manufacturers.
She counsels these companies — and their technology and advertising partners — on how to address legacy regulatory issues and the cutting edge issues that have emerged with industry innovations and data collaborations. As part of her practice, she regularly represents clients in commercial transactions relating to content distribution and those involving personal data and cybersecurity risk.
Advised a major technology and consumer electronics company and two of the largest advertisers in the world on global privacy assessments. For one client, the privacy assessment culminated with the development of a privacy-by-design program and governance system and updated privacy policies that were translated ultimately into more than 70 languages.
Provides ongoing privacy and data protection counsel to a number of financial services companies, including on compliance with the Gramm-Leach-Bliley Act, and other U.S. privacy laws.
Provides ongoing counsel to pharmaceutical and medical device manufacturers and other health industry clients in relation to use of mobile applications and other digital platforms.
Advises television industry clients on negotiating retransmission consent and digital distribution agreements, as well as in connection with strategic transactions. Ms. Canter advised what was then Gannett Co., Inc. on its $2.2 billion acquisition of Belo Corp. She also advised Microsoft Corp. in its acquisition of Skype Global S.à.r.l., the leading Internet communications company, for $8.5 billion in cash.
Counsels clients on data security breaches, including compliance with notification requirements and advice regarding possible regulatory enforcement actions, and developing cyber security and incident response policies and programs.
Represents non-profit organizations on managing privacy and cybersecurity risks.
Represented plaintiffs in a putative class action against the United States Postal Service for failure to provide reasonable accommodations to deaf postal workers.
Counseled trade group on constitutional issues in connection with FCC proceeding.
Represented inmate in parole hearing before the U.S. Parole Commission.
Represented employee in connection with employment discrimination and retaliation suit filed in federal court; obtained favorable settlement for client.
Drafted amicus brief to the U.S. Supreme Court on validity of federal criminal statute under the Commerce Clause.
Memberships and Affiliations
Federal Communications Bar Association
Research Assistant and Acting Legislative Assistant for U.S. Senator Timothy P. Johnson (D - S.D.) from 2003-2005 on banking and telecommunications issues.
Law360, Cybersecurity & Privacy "Rising Star" (2017)

COVID-19: Legal and Business Toolkit
We are helping clients around the world navigate this evolving, complex situation.
View the Toolkit

California Consumer Privacy Act (CCPA)
We are representing clients on California Consumer Privacy Act (CCPA) compliance, including in the legislative amendment and rulemaking proceedings associated with the CCPA and in developing working plans to come into compliance with the CCPA.
Get CCPA Insights
Education
University of Virginia School of Law, J.D., 2008
Order of the Coif
Articles Editor, Virginia Law Review
Duke University, A.B., 2003