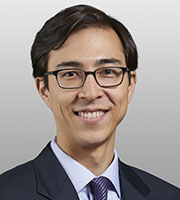 Dustin Cho is a commercial litigator who focuses on representing corporate policyholders in coverage disputes with their insurers. He has helped his clients obtain hundreds of millions of dollars in insurance recoveries for a wide range of liabilities, including shareholder claims, mass torts, government investigations, professional liability, environmental remediation, employment claims, product liability, and antitrust claims.
Mr. Cho is an experienced trial and appellate advocate, and has helped his clients successfully resolve coverage disputes through settlement negotiations and ADR.
Mr. Cho has represented policyholder coalitions, including industry trade associations, in appeals regarding important insurance issues. He writes and speaks about insurance topics, including recently on insurance issues arising from physical damage and injuries caused by hacking and other cybersecurity incidents.