Our Website Uses Cookies
We and the third parties that provide content, functionality, or business services on our website may use cookies to collect information about your browsing activities in order to provide you with more relevant content and promotional materials, on and off the website, and help us understand your interests and improve the website.
For more information, please contact us or consult our Privacy Notice.
Your binder contains too many pages, the maximum is 40.
We are unable to add this page to your binder, please try again later.
This page has been added to your binder.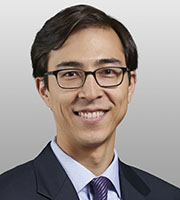 Dustin Cho is a commercial litigator who focuses on representing corporate policyholders in coverage disputes with their insurers.
Representation of the National Football League in litigation regarding insurance coverage for concussion-related claims.
Representation of utilities in litigation regarding coverage for legacy environmental liabilities.
Representation of major consulting firms in connection with coverage for claims arising out of services they provided to public and private sector clients worldwide.
Representation of a chemical manufacturer in connection with claims for property damage allegedly arising out of its products.
Representation of a star athlete regarding coverage for disability and loss of value.
Representation of a major law firm regarding coverage for a claim by a former client.
Representation of a biotechnology company in connection with coverage for claims for alleged injuries arising from a manufacturing facility.
Representation of a heavy equipment manufacturer regarding coverage for product liability and completed operations under a manuscript policy.
Representation of manufacturer trade association as amicus curiae before state supreme court regarding insurance coverage for asbestos-related claims.
Representation of Public Broadcasting Service in an 18-day evidentiary hearing before the Copyright Royalty Board to determine the allocation of approximately $800 million in cable television copyright royalties among six parties. See Distribution of Cable Royalty Funds, 84 Fed. Reg. 3552 (2019).
Representation of media companies before the D.C. Circuit in appeals regarding FCC decisions. See, e.g., Free Press v. FCC, No. 17-1129, 735 F. App'x 731 (D.C. Cir. 2018); Tennis Channel, Inc. v. FCC, 827 F.3d 137 (D.C. Cir. 2016).
Representation of plaintiff whose conviction was vacated after fifteen years of allegedly wrongful imprisonment in a civil rights action against police and prosecutors in Jefferson Parish, Louisiana. See Williams v. Connick, No. 12-1274, 2014 WL 172520 (E.D. La. 2014).
Representation of plaintiffs challenging the pretextual addition of a citizenship question to the 2020 Census questionnaire. See Kravitz v. U.S. Department of Commerce, 366 F. Supp. 3d 681 (D. Md. 2019).
Education
Harvard Law School, J.D., 2011
magna cum laude
Harvard Law Review, Articles, Book Reviews & Commentaries Chair
Ames Moot Court Competition, Finalist
Yale University, B.A./M.A., 2008
magna cum laude
Phi Beta Kappa