Deirdre Christin
Chief Marketing Officer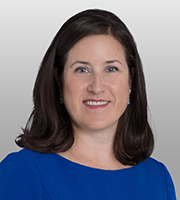 Deirdre Christin and her team develop and execute marketing efforts to meet client needs and support the firm's strategic plan for growth. The marketing team manages the firm's client relationship management and development, communications, brand, and digital marketing to bring Covington's expertise to market.

Covington has been Ms. Christin's professional home for 15 years. She began at the firm supporting the technology, media, and communications groups, then served as Director of Client Development for nine years, enhanced the firm's Relationship Management Program as Deputy-CMO for two years, and moved into the CMO role in 2017. She manages a team of 65+ marketing professionals across the firm's 13 offices.

Ms. Christin served for five years on the Board of the Capital Chapter of the Legal Marketing Association, including as President and Treasurer.

Prior to joining Covington, Ms. Christin supported regional and technology industry marketing efforts for an AmLaw 100 law firm. Before entering the legal industry, she worked at a public relations firm supporting client accounts and communications campaigns as well as producing large and high-profile corporate events.

Ms. Christin and her husband live in Washington with their two young daughters.