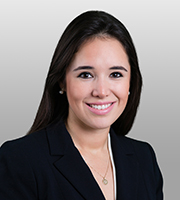 Alma Caballero is Latin America policy advisor in Covington's Public Policy practice. Ms. Caballero, a non-lawyer, provides strategic consulting, risk management and other advisory services to clients in the United States, Latin America and the Caribbean.
She contributes with deep cultural sensitivity and a wealth of knowledge working with multinational corporations, governments and think-tanks while gaining experience at The Embassy of Mexico in Washington, The Brookings Institution and Mitsubishi Corporation (Americas).
Ms. Caballero has developed enduring and extensive relationships by having served as president of Georgetown University's Latin America Student Association, where she regularly interacted with heads of state, cabinet level officials, scholars and leaders in the private and public sectors.