Our Website Uses Cookies
We and the third parties that provide content, functionality, or business services on our website may use cookies to collect information about your browsing activities in order to provide you with more relevant content and promotional materials, on and off the website, and help us understand your interests and improve the website.
For more information, please contact us or consult our Privacy Notice.
Your binder contains too many pages, the maximum is 40.
We are unable to add this page to your binder, please try again later.
This page has been added to your binder.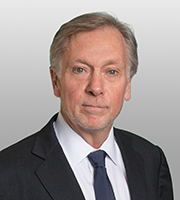 Donald Brown's trial, arbitration, and appellate practice focuses on representing policyholders in complex insurance coverage disputes.
Mr. Brown has served as lead counsel in lawsuits involving substantial claims under directors and officers insurance policies; financial, media, software, and other errors and omissions policies (including coverage for false advertising and unfair business practices claims); general liability policies (including coverage for mass tort and environmental liabilities); construction policies; fidelity and other financial guaranty policies; and first-party property damage policies (including major damage and business interruption losses resulting from hurricane, tornado and other catastrophic events).
Mr. Brown was the lead trial lawyer for ExxonMobil in its lawsuit against more than 100 insurers over more than $2 billion of coverage for environmental cleanup liabilities associated with some 5,000 sites. He also was the lead lawyer for Fibreboard in the trial of key phases of the landmark California Asbestos Insurance Coverage Cases, which led to insurance recoveries in excess of $2 billion.
Representing ExxonMobil in New York lawsuit over coverage for asbestos-related liabilities.
Representing Vulcan Materials in Los Angeles lawsuit over coverage for environmental liabilities.
Representing InterMune in arbitration over D&O coverage for defense costs incurred by former CEO.
Representing a major New York financial institution with respect to its claim for business interruption losses arising out of superstorm Sandy.
Served as party-appointed arbitrator in several complex insurance coverage disputes, including arbitrations over claims by Boeing, Dow Corning, and PG&E Corporation.
Memberships and Affiliations
Fellow, The American Bar Foundation
Lawyers' Committee for Civil Rights of the San Francisco Bay Area, Member
California State Bar, Committee on Administration of Justice, Member
Insurance Law360, "Most Admired Attorneys" (2010)
Chambers USA: America's Leading Lawyers for Business, ranked as an "individual star" among the leading policy holder lawyers in California (a ranking above the "first tier") and in the "first tier" of leading policy holder lawyers nationally (2013-2019).
Best Lawyers in America in two separate categories: Commercial Litigation and Insurance Law (2003-2019)
Best Lawyers in America - Lawyer of the Year; Insurance Law, San Francisco (2012)
Legal 500 US, Insurance: Advice to Policyholders (2013-2019)
Northern California Super Lawyers, Insurance Coverage (2004-2018)
Benchmark California, "Litigation Star" (2018-2019)
Law & Politics "Top 100" Lawyers in Northern California (2011)
Benchmark: Litigation, National Star - Insurance Litigation; California Star (2012-2014)
Legal 500 US, "Leading Lawyer" - Insurance: Advice to Policyholders (2014)
The Practical Law Company (PLC) - Insurance and Reinsurance, The Law and Leading Lawyers Worldwide (2011)
Best of the Best USA, Insurance and Reinsurance (2011)
The International Who's Who of Business Lawyers (2012-2013)
The Legal Media Group Guide to the World's Leading Insurance and Reinsurance Lawyers (2013)