Our Website Uses Cookies
We and the third parties that provide content, functionality, or business services on our website may use cookies to collect information about your browsing activities in order to provide you with more relevant content and promotional materials, on and off the website, and help us understand your interests and improve the website.
For more information, please contact us or consult our Privacy Notice.
Your binder contains too many pages, the maximum is 40.
We are unable to add this page to your binder, please try again later.
This page has been added to your binder.
Charles E. Buffon
Senior Counsel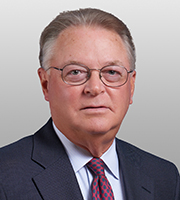 Charles Buffon brings vast experience and sophisticated understanding to the complex litigation, antitrust, consumer law and intellectual property issues facing our clients. He is also a recognized "expert in legal ethics," cited and followed in a recent U.S. Patent Office disciplinary proceeding.
Mr. Buffon's practice encompasses class actions and other complex civil litigation, government investigations and consent negotiations, antitrust advice and dispute resolution, intellectual property litigation, franchise and distribution issues, trade regulation, consumer protection law, Internet security, advertising substantiation and professional conduct law. He has argued both antitrust and intellectual property cases before several Federal Courts of Appeal, appeared in court proceedings in federal and state courts in more than twenty states, engaged in numerous negotiations with the Federal Trade Commission, the U.S. Department of Justice and other federal and state government agencies, and has experience both in mediation and as a mediator. He also has extensive experience representing European and Asian luxury, fashion and cosmetic product manufacturers with respect to distribution in the United States.
Led team that achieved summary judgment dismissing contract and promissory estoppel claim for 1/3 of business in Fallahi v. Mariam, Inc. (d/b/a Darcars) (Ct.Ct. MD 2016).
Expert in legal ethics in confidential arbitration between a major law firm and departing partners.
Successfully argued motion to dismiss antitrust monopolization claim in Emigra Group v. Fragomen, Del Rey, Bensen & Lowery (S.D.N.Y. 2009).
Lead counsel to a major issuer of credit cards in the defense and settlement of an antitrust action in the Southern District of New York alleging a conspiracy among banks and Visa and MasterCard to foreclose banks from issuing American Express cards.
Lead counsel to a major credit card issuer in mediation and settlement of the Foreign Exchange Fee Antitrust Litigation, a nationwide class action now pending in the Southern District of New York. Mr. Buffon successfully argued a motion establishing the enforceability of our client's arbitration clause, thereby facilitating resolution of the matter.
Counsel to a major Internet company in resolving a Federal Trade Commission investigation of the data security provided by its identity authentication service. The standard articulated in this matter has become the template for resolution of subsequent FTC data security investigations. Mr. Buffon has also assisted several clients in responding to FTC investigations closed without action.
Appeal counsel to the plaintiff in Davidoff & Cie, SA v. PLD International Corp, 263 F. 3d. 1297 (11th Cir. 2001), successfully enforcing the client's trademark against gray market imports.
Lead counsel to plaintiff in Montblanc Simplo Gmbh v. Staples, 172 F. Supp. 2nd 231 (D. Mass. 2001), successfully enforcing the client's trademark against gray market imports.
Lead counsel to defendant in Aerogroup International, Inc. v. Shoe Show, Inc., 966 F. Supp. 175 (W.D.N.Y. 1997), successfully obtaining dismissal of plaintiff's trade dress infringement claims.
Lead trial counsel to defendant in International Telecharge, Inc. v. AT&T (D. Md. 1994) (unreported), in obtaining judgments dismissing plaintiff's Lanham Act false advertising claim and sustaining defendant's counterclaim for unfair trade practices.
Trial counsel to defendant in William Inglis & Sons Baking Company v. ITT Continental Baking Co., 942 F.2d 1332 (9th Cir. 1991) in obtaining dismissal of all antitrust claims.
Lead trial and appeal counsel to defendant in Jays Foods, Inc. v. National Classification Committee, 646 F. 604 (E.D.Va. 1985), aff'd 801 F.2d 394 (4th Cir. 1986), in obtaining judgment dismissing Sherman Act claim addressing freight classification system promulgated by committee of American Trucking Ass'n.
Lead counsel to the world's leading manufacturer of insulin in negotiating a consent order with the Federal Trade Commission resolving Sherman Act monopolization claims and settling nationwide class actions brought by hospital purchasers of insulin and suppliers of pancreas glands used in its manufacture.
Counsel to a defendant in Antibiotic Antirust Actions, 676 F2nd 51 (3d Cir. 1982) in which Sherman Act claims brought by the United States against manufacturers of broad spectrum antibiotics were dismissed.
Lead trial counsel to defendant in Flair Zipper Co, v. Textron (S.D.N.Y.1980), aff'd (2d Cir. 1981), in which, after a jury trial, Sherman Act claims were dismissed, and the dismissal was affirmed in an unreported opinion by the Second Circuit.
Lead counsel for the plaintiff in Hittman Nuclear v. Chem Nuclear Systems, (D.Md. 1980), aff'd (4th Cir. 1980), in which the 4th Circuit affirmed entry of a preliminary injunction and summary judgment for plaintiff in a Clayton and Sherman Act case arising from the merger of competitors of plaintiff engaged in disposal of radioactive waste.
Memberships and Affiliations
Past Chair of DC Bar Legal Ethics, Multidisciplinary Practice, Court Rules and Legal Specialization Committees
Member of DC Bar Committees on drafting and revision of Rules of Professional Conduct, Multi-jurisdictional Practice and Long Range Planning
Steering Committee of D.C. Bar Section on Courts, Lawyers and the Administration of Justice
Washington College of Law of American University, Adjunct Professor, teaching basic course in professional ethics.
University of Virginia Law School, Adjunct Instructor, teaching seminar in antitrust litigation.
Howard University Law School, Lecturer on ethics issues affecting patent practitioners.
Euromoney, Benchmark: The Guide to America's Leading Litigation Firms and Attorneys, Litigation Star, DC
Washington defense litigation Super Lawyer
Who's Who in America
Who's Who in American Law
Certificate of Appreciation from DC Bar for Chairing Multidisciplinary Practice Committee (2002)
Certificate of Appreciation from DC Bar for Chairing Legal Ethics Committee (1987)
Education
Harvard Law School, LL.B.
Dartmouth College, A.B.
magna cum laude

Phi Beta Kappa

Highest Distinction in International Relations

Daniel Webster Debate Prize