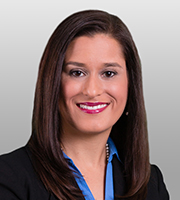 Brianne Bharkhda is litigator who represents a variety of clients in high-stakes patent litigation and product liability actions. Ms. Bharkhda has experience representing clients at all stages of litigation, from case inception through trial and appeal. Her trial experience in intellectual property actions includes both jury trials and bench trials involving issues of patent infringement and validity. She has also argued motions in several of the nation's most active patent litigation jurisdictions.
Ms. Bharkhda has represented clients in matters involving an array of different technology areas, including pharmaceuticals, medical devices, and electronics. She specializes in complex pharmaceutical patent litigation, and has litigated numerous cases involving generic drug approvals and the Hatch-Waxman Act.
Ms. Bharkhda is a frequent contributor to the firm's InsideMedicalDevices blog.