Your binder contains too many pages, the maximum is 40.
We are unable to add this page to your binder, please try again later.
This page has been added to your binder.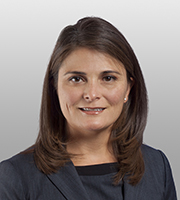 Tammy Albarrán advises public companies, financial services firms, securities brokerage firms, and their officers and directors on important and complex SEC investigations and enforcement actions, securities litigation, internal investigations, and anti-corruption matters.
Ms. Albarrán leads the Anti-Corruption Practice Group's Latin America practice. Fluent in Spanish, Ms. Albarrán has led investigations relating to bribery issues, including for clients with operations in Latin America, has assisted with anti-corruption due diligence in connection with proposed transactions, and has advised clients on their anti-corruption compliance programs. Ms. Albarrán has extensive knowledge and expertise in dealing with US regulators.
Anti-Corruption Compliance
Conducting an anti-corruption risk assessment and providing compliance advice relating to a global distributor's operations in Mexico.
Providing ongoing anti-corruption advice to a Mexican subsidiary of a multinational corporation.
Regulatory and Internal Investigations
Conducting an internal investigation for a major U.S. company into allegations of improper payments relating to government-sponsored energy projects in Colombia.
Leading an internal investigation relating to allegations by a whistleblower of potential violations of the FCPA and other federal securities laws by a Latin American company.
Represented a Fortune 500 company in an internal investigation concerning potential foreign bribery and accounting issues in China.
Successfully represented two Fortune 500 companies in SEC investigations arising out of whistleblower allegations of improper revenue recognition and accounting practices. The SEC closed both investigations with no enforcement action.
Defended a law firm associate in an insider trading investigation by the SEC. The SEC closed the matter without taking any enforcement action.
Represented a major investment bank in a FINRA investigation of alleged large proprietary wash sales, resulting in a favorable settlement.
Represented a mutual fund investment adviser in an SEC investigation into whether statements made in a prospectus/proxy statement were misleading. The investigation was closed with no enforcement action.
Securities and Derivative Litigation
Successfully defended a California-based biotech company and its directors in the defense of a lawsuit in the S.D.N.Y., alleging securities fraud and breach of the directors' fiduciary duties arising from actions taken following an unsolicited offer to acquire the company.
Co-lead counsel to the former CEO of IndyMac Bancorp in several securities fraud class actions alleging misrepresentations regarding IndyMac Bank's underwriting, appraisals and internal controls.
Represented the former Chief Investment Officer of Fixed Income for Charles Schwab Investment Management in a federal court action by the SEC for alleged violations of the federal securities laws based on alleged misrepresentations relating to the risk profile of Schwab's ultra short term bond fund, as well as related federal securities class action and shareholder derivative lawsuit.
Led the successful dismissal with prejudice of several securities fraud lawsuits filed against Chase Bank, USA, in federal courts throughout California.
Represented a Silicon Valley chip manufacturer's officers and directors in shareholder derivative suits pending in Delaware and California where plaintiffs allege "spring-loading" and "bullet-dodging" in the issuance of stock options.
Defeated the SEC after a six-day bench trial in a case in which it alleged fraudulent omissions and misstatements against the former CEO of a public company. See SEC v. Gane, et al., 2005 WL 90154 (S.D. Fla. Jan. 4, 2005).
Represents a class of Latinos in Maricopa County, Arizona subjected to discriminatory stops by the County Sheriff's Office.
Memberships and Affiliations
Board of Directors, Bar Association of San Francisco
Advisory Board, Women in Law Empowerment Forum (WILEF)
Hispanic National Bar Association
California Minority Counsel Program
Latinvex, "Latin America's Top 100 Female Lawyers (FCPA and Fraud)" (2017)
Latinvex, "Latin America's Top 100 Female Lawyers (FCPA)" (2016)
Latinvex, "Latin America's Top 50 Female Lawyers" (2015)
Northern California Super Lawyers, "Top 50 Women" (2014)
Minority Corporate Counsel Association, "Rising Star" (2014)
Chambers Global, Fraud & Corporate Investigations (Latin America) (2015-2017)
Chambers Latin America, Fraud & Corporate Investigations (2015-2018)
Legal 500 US, Securities Litigation (2013-2017) and White-Collar Criminal Defense (2013-2014)
Northern California Super Lawyers, Securities Litigation (2013-2016); "Rising Star" (2009, 2011-2012)
The Daily Journal, "Top 20 Under 40" (2012)
The National Law Journal, "Minority 40 Under 40" (2011)