Our Website Uses Cookies
We and the third parties that provide content, functionality, or business services on our website may use cookies to collect information about your browsing activities in order to provide you with more relevant content and promotional materials, on and off the website, and help us understand your interests and improve the website.
For more information, please contact us or consult our Privacy Notice.
Your binder contains too many pages, the maximum is 40.
We are unable to add this page to your binder, please try again later.
This page has been added to your binder.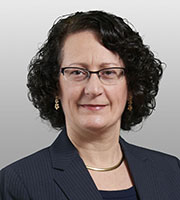 Shara Aranoff helps clients in technology, life sciences, and manufacturing use intellectual property and international trade enforcement tools to compete in U.S. and global markets.
Prior to joining the firm, she was a Commissioner and Chairman of the U.S. International Trade Commission (ITC), where she was a decision-maker in hundreds of Section 337, antidumping, countervailing duty, and safeguard investigations. Drawing on her 20 years of experience in the executive and legislative branches of the U.S. government, she develops legal and public policy strategies to assist clients navigating the U.S. International Trade Commission, U.S. Customs and Border Protection, Congress, and the courts.
In her role as Chairman of the ITC, Ms. Aranoff frequently engaged with Congress, USTR, and U.S. Customs and Border Protection on intellectual property and international trade issues, including patent reform legislation and proposals to amend Section 337.
Ms. Aranoff previously served as Senior International Trade Counsel for Senator Max Baucus (D-MT) at the U.S. Senate Committee on Finance, where she was responsible for legislative and policy issues including Trade Promotion Authority; negotiations involving the World Trade Organization and free trade agreements; and trade remedy and customs laws. She also served as an attorney-advisor in the Office of the General Counsel at the ITC, where she was lead counsel in appellate litigation before the Court of Appeals for the Federal Circuit and the Court of International Trade.
ITC Section 337 Investigations
Represent Texas Instruments in 337-TA-984, Certain Computing or Graphics Systems, Components Thereof, and Vehicles Containing Same.
Represent Samsung in 337-TA- 925, Certain Communications or Computing Devices and Components Thereof.
Trade Remedy Investigations
Represent Union Pacific Railroad in USITC Antidumping and Countervailing Duty investigations of 53-Foot Domestic Dry Containers from China, Inv. Nos. 701-TA-514 and 731-TA-1250.
Represent South32 in antidumping investigation of Silicomanganese from Australia, Inv. No. 731-TA-1269.
Represent Asian paper manufacturer in USITC investigation of Certain Uncoated Paper from Australia, Brazil, China, Indonesia, and Portugal, Inv. Nos. 701-TA-528-529 & 731-TA-1264-1268.
Customs Matters
Assist pharmaceutical, dietary supplement, food and cosmetic companies to establish compliant Customs country of origin marking and classification practices.
Assist chemical company to file Miscellaneous Tariff Bill tariff suspension requests.
Assist global energy company with the reorganization of its U.S. customs compliance functions.
Assist engineering and pharmaceutical companies with prior disclosures and drafting new customs compliance manuals.
U.S. International Trade Commission, Commissioner and Chairman
U.S. Senate Committee on Finance, Senior International Trade Counsel to Senator Max Baucus (D-MT) Office of the General Counsel, U.S. International Trade Commission, Attorney Advisor