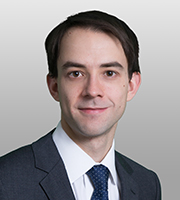 Sam Adriance practices in the areas of financial regulation, data privacy, and cybersecurity. He assists banks, online retailers, credit reporting agencies, and fintech companies both in a wide variety of regulatory matters and also in high-stakes government investigations.
Mr. Adriance regularly advises clients on compliance with a range of consumer protection, data protection, and financial services statutes and regulations. He has particular expertise in the application of the Fair Credit Reporting Act, the Gramm-Leach-Bliley Act, the California Financial Information Privacy Act (S.B. 1), and various cybersecurity standards, including the Safeguards Rule. He also closely follows issues related to the Consumer Financial Protection Bureau, including the CFPB's enforcement and regulatory agenda, as well as legislative and political developments involving the CFPB.
In addition, Mr. Adriance assists financial institutions in government investigations. He represents a global bank in connection with an investigation of international money laundering, foreign corruption, and related issues. He has also represented a major financial institution in a CFPB investigation regarding compliance with financial privacy law, and a major financial institution in a matter before the Office of the Comptroller of the Currency.
Before joining the firm, Mr. Adriance clerked for the Honorable Jeffrey A. Meyer of the United States District Court for the District of Connecticut. He received his J.D. from Yale Law School in 2015, where he was a Notes Editor of the Yale Law Journal. In law school, he also served as Student Director of the Education Adequacy Project, a clinic that litigated a historic education case against the state of Connecticut, which led to a trial court ruling requiring the state to revamp its education funding system to better serve students from lower-income areas. Mr. Adriance received his B.A. from St. John's College in Santa Fe, New Mexico, where he won the Faculty Award as the top student in his graduating class.
Mr. Adriance also maintains an active pro bono practice, including representation of plaintiffs in a fair housing class action, and representation of an individual seeking Special Immigrant Juvenile Status before U.S. Citizenship and Immigration Services.