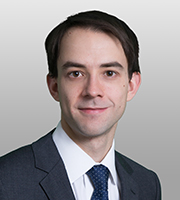 Sam Adriance assists clients with financial regulatory and data protection issues, including financial privacy, consumer financial services, safety and soundness, and anti-money laundering. He assists banks, fintech companies, payment processors, credit reporting agencies, and other non-bank financial institutions both in a wide variety of regulatory matters and high-stakes government investigations brought by the DOJ, CFPB, FTC, and prudential banking regulators.
Consumer Financial Services
Mr. Adriance represents financial institutions in enforcement and supervisory matters before both the CFPB and OCC that implicate consumer financial services issues, including credit card add-on products and unauthorized account openings. He also has experience representing multiple financial institutions respond to CFPB PARR letters, and regularly advises clients on UDAAP issues and related consumer financial services laws.
BSA/AML and Safety and Soundness
Mr. Adriance represents financial institutions in law enforcement and regulatory matters involving both BSA/AML and safety and soundness issues. These include, for example, representation of a major bank in a DOJ investigation of international money laundering; assisting a foreign bank convert a state-licensed branch to a federally licensed branch; representation of a national bank in a safety and soundness enforcement action before the OCC; and advising financial institutions on the application of the Bank Secrecy Act to fintech companies, especially those utilizing cryptocurrency.
Privacy and Cybersecurity
Mr. Adriance represents financial institutions in both CFPB and FTC enforcement and investigatory matters involving privacy and data security. He also regularly advises clients, including major commercial banks and credit bureaus, on the application of various financial privacy and cybersecurity laws, particularly the Gramm-Leach-Bliley Act and Fair Credit Reporting Act. Further, he represents financial institutions in responding to data breach incidents.