Our Website Uses Cookies
We and the third parties that provide content, functionality, or business services on our website may use cookies to collect information about your browsing activities in order to provide you with more relevant content and promotional materials, on and off the website, and help us understand your interests and improve the website.
For more information, please contact us or consult our Privacy Notice.
Your binder contains too many pages, the maximum is 40.
We are unable to add this page to your binder, please try again later.
This page has been added to your binder.
#CovHasPride Spotlight Series: Jonathan Heath
June 29, 2020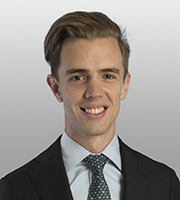 Resident in our London office, Jonathan Heath is an associate in the firm's dispute resolution department. Mr. Heath has experience advising and representing clients in a range of complex and high value commercial disputes, with a particular focus on general commercial and financial services matters.
In your opinion, how does Covington compare to other UK firms with regard to diversity and inclusion?
What appealed to me about Covington from my first interview was how inclusive it is as a firm. Covington not only welcomes you, it celebrates you as a person and encourages you to be your true self. As such, I work in great teams, with colleagues from diverse backgrounds - bringing a wide range of different viewpoints to our work. A special counsel I work closely with really embodies this, she engages the whole team and you see people really coming out of their shells, and bringing their whole selves to work, as a result.
From my perspective, for the firm to further build on its inclusivity, we need to continue to hire talented lawyers and staff from the LGBTQ community and to promote LGBTQ lawyers and staff to senior positions across the firm to ensure that we have diverse voices and viewpoints throughout our organization. The continued support and actions of allies throughout the firm plays a critical role in the firm building its diversity and creating a truly safe space.
What constitutes allyship in today's workplace?
Being an ally in the workplace is supporting individuals from diverse backgrounds and acting to make sure that they feel comfortable to be themselves. Allies play a key role and their importance cannot be underplayed. Every LGBTQ+ person at Covington benefits from allies.
There is an excellent TED talk by Melinda Epler on being an ally in the workplace. She sets out three key things you can do to take action as an ally in the workplace - (i) don't interrupt - listen and learn from underrepresented people; (ii) advocate for underrepresented people; and (iii) make real commitments to creating change and advocate for that change.
To me, it is often the actions that may seem insignificant to the ally, which show the real impact of allies in the workplace. Simply having a coffee (and a conversation) with a colleague and the ally sharing about their personal life, and building a non-work related connection, can make a huge difference in building trust to share your own identity. The two partners I predominantly work for have shared with me about their lives outside the office. Discussions over a new dog, a child's school play, helped to quickly build a relationship, and a work environment generally, where I am comfortable to bring my whole self to the office.
What advice would you give to your younger self?
My younger self often worried that there wouldn't be a place for me in the world. Growing up, a gay man was portrayed (if at all) in popular media as a cliché, defined by his sexuality alone. So I would tell my younger self that you will find your place, a place where you are your true self and that you are loved and celebrated for every aspects of you, your personality, your intelligence, your skills and attributes, and even your terrible jokes.